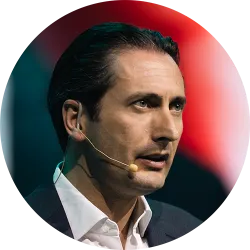 Dr Mark van Rijmenam, CSP, is a visionary strategic futurist who enlightens organisations on the transformative power, opportunities, and risks of AI, the metaverse, and other cutting-edge technologies. As a renowned international speaker, a Global Speaking Fellow and a 5-time author, he captivates audiences worldwide.
Unlock the Future of Innovation and Navigate the Digital Evolution
1. Unparalleled Expertise in Emerging Technologies
Dr Mark van Rijmenam has a profound understanding of cutting-edge domains like generative AI, blockchain, and the metaverse. His knowledge is backed by robust academic foundations and ongoing engagement with contemporary technological advancements, making him an invaluable asset for organisations aiming to navigate the digital landscape adeptly. His knowledge is highly regarded in the industry.
2. Visionary Insights with a Futuristic Lens
As a strategic futurist, Dr Van Rijmenam provides a forward-thinking perspective, enabling audiences to anticipate and prepare for the digital evolution. His insights provide a roadmap for organisations to navigate the digital transformation and foster a culture of innovation and adaptation essential for thriving in the digital age.
3. Engaging and Impactful Keynote Deliveries
Dr Van Rijmenam's ability to simplify complex ideas and present them in an engaging manner has inspired over 100,000 professionals across all continents. His keynotes are more than just presentations; they are experiences that ignite curiosity, provoke thought, and stimulate meaningful discussions.
4. Balanced and Candid Discourses
Appreciated for his balanced and candid insights, Dr Van Rijmenam presents a well-rounded view of the implications of emerging technologies. As an optimistic dystopian, he explores both the promising and the potentially perilous aspects of AI and other digital advancements, fostering a holistic understanding and encouraging informed discourse.
5. Custom-Tailored Presentations
The content and delivery of Dr Van Rijmenam's keynotes are tailored to meet his audience's specific needs and interests, ensuring a resonant and relevant learning experience. He takes the extra step to align his presentations with the organisational objectives and audience expectations.
6. Facilitator of Robust Discussions
Dr Van Rijmenam's presentations serve as catalysts for robust discussions around regulation, ethical technology application, and digital innovation. He cultivates a stimulating environment where critical thinking and open dialogue are encouraged.
7. Dynamic Corporate Education Initiatives
Beyond keynote speaking, Dr Van Rijmenam offers an array of corporate education services, including workshops, webinars, a masterclass for all employees and interactions with his digital twin in any language, providing comprehensive learning experiences that extend well beyond the stage.
8. Recognition and Accreditation in the Speaking Domain
Being awarded the Certified Speaking Professional and Global Speaking Fellow accreditations in 2023 is a testament to his excellence and professionalism in the speaking arena. His recognitions reflect a high level of trust and satisfaction among industry peers and clients. He has received over >65 references.
9. Profound Impact on Audience Perceptions
Testimonials reveal that Dr Van Rijmenam's keynotes are eye-opening, informative, and often mind-blowing. His ability to shift perspectives and incite a deeper understanding of AI's societal, economic, and mental health impacts is invaluable. His keynotes are described as "brilliant and intriguing", often leaving a lasting impact on the audience​1.
10. Commitment to Ethical Technology Application
Dr Van Rijmenam emphasises the ethical implications of digital technology, advocating for responsible innovation. His commitment to ethical tech application is not just a topic of discussion but a crucial ethos he brings to every engagement, promoting a culture of responsibility and foresight in the digital realm.
You can engage with Dr Mark van Rijmenam to ensure your organisation is keeping up with the digital evolution and leading the charge towards a technologically empowered, ethically responsible, and innovative future.
Contact The Digital Speaker