Dr Mark van Rijmemam
A (virtual) speaker and best-selling author on the future of work. The Digital Speaker has deep expertise on how AI, big data, blockchain, the Internet of Things and other digital technologies disrupt your business, government and society. He can inspire you, your employees and your audience to embed smartness into your organisation, remain competitive in years to come and apply technology responsibly.
More About Me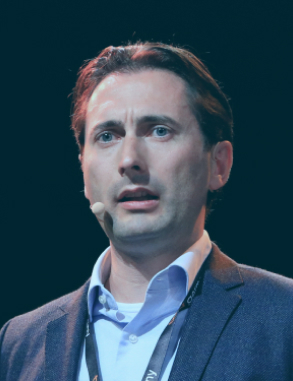 Listen to the latest podcast
Over the past 30-years, our lives have been increasingly digitalised as we live through the third industrial revolution. From the moment we wake up to the moment we close our eyes, the digital world surrounds us.

Podcasts are also available in...
The Digital Speaker is here to tell you about the ins and outs of emerging digital technologies and how this will affect your business and society, from inside the digital world.
The Books
Step into the Metaverse
How the Immersive Internet Will Unlock a Trillion-Dollar Social Economy
Step into the Metaverse: How the Immersive Internet Will Rewrite How the World Operates explores how the merging of physical and virtual worlds will irrevocably change the day-to-day experiences of individuals, organizations and even societies. By mapping out both the trillion-dollar opportunities and potential liabilities of the metaverse, this book aims to prepare business leaders, consumers, and government officials for the future of the Internet: live selling via streaming fashion shows, virtual movie screenings and concerts, digital twins of physical cities, digital products sold directly to avatars, and more.
Read More
Platform Revolution
Blockchain Technology as the Operating System of the Digital Age
---
Chapter 2: Dr Mark van Rijmenam
The book declares a simple and important truth: Blockchain has achieved platform status and will be foundational for creating a decentralised society where data privacy and security are standard.

Edited with a preface by Don Tapscott, brought together by the Blockchain Research Institute and in collaboration with six other contributors, Christian Keil, Anjan Vinod, Dominique Guinard, David Mirynech, Alan Majer, and Michele Mosca, the book is a must-read for anyone who is interested in the platform revolution.
The Organisation of Tomorrow
How AI, blockchain and analytics turn your business into a data organisation
The Organisation of Tomorrow presents a new model of doing business and explains how big data analytics, blockchain and artificial intelligence force us to rethink existing business models and develop organisations that will be ready for human-machine interactions. It also asks us to consider the impacts of these emerging information technologies on people and society."
Read More
Blockchain
Transforming your business and our world
---
Dr Mark van Rijmenam, Dr Philippa Ryan
The internet was envisaged as a decentralised global network, but in the past 25 years, it has come to be controlled by a few, very powerful, centralised companies. Blockchain is a technological paradigm shift that allows secure, reliable, and direct information transfer between individuals, organisations, and things, so that we can manage, verify, and control the use of our own data.
Read More
Think Bigger
Developing a successful big data strategy for your business
Big data--the enormous amount of data that is created as virtually every movement, transaction, and choice we make becomes digitized--is revolutionizing business. Offering real-world insight and explanations, this book provides a roadmap for organizations looking to develop a profitable big data strategy...and reveals why it's not something they can leave to the I.T. department."
Read More
My Academic Papers
Innovation, 23(1), pp.127-144
Van Rijmenam, M. and Logue, D.
Long range planning, 52(5), p.101841
Van Rijmenam, M., Erekhinskaya, T., Schweitzer, J. and Williams, M.A.,
Cambridge University Press, pp 307-325
Clegg, S., Van Rijmenam, M. and Schweitzer, J.,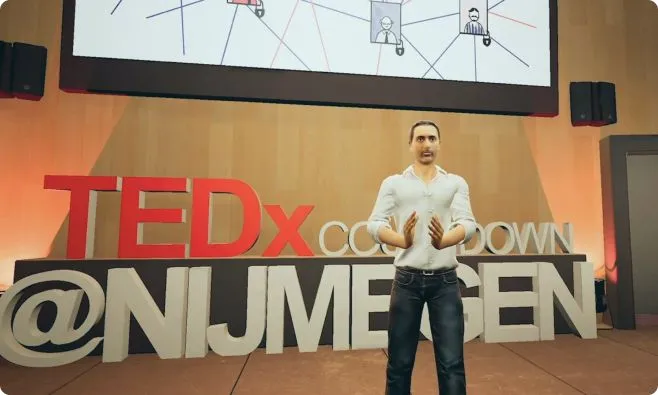 Mark delivered the world's first TEDx Talk in virtual reality.
As part of the Global Countdown event on 10-10-2020, Dr Van Rijmenam delivered the world's first TEDx talk in virtual reality.
Discussing the Rise of Digitalism from the virtual world, Dr Van Rijmenam shared his insights on how Digitalism will become the first truly global political doctrine.
Find out what the impact of Digitalism will be on your organisation by booking Dr Mark van Rijmenam today.
What formats does The Digital Speaker offer?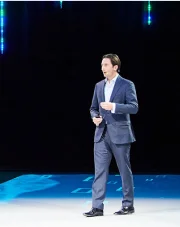 Have the real Mark on stage, where he can even have a live conversation with his digital twin as a hologram.
Read More
Book The Digital Speaker for a more traditional webinar or live, professionally recorded virtual keynote.
Read More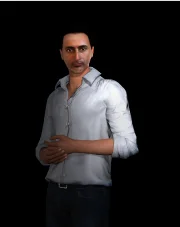 Opt for a magical experience and have Mark's avatar or hologram deliver a truly unique experience anywhere in any language.
The Digital Speaker
Digitalisation can be a catalyst to become and remain successful. In this data-driven world, organisations should not only do digital, but they should be digital.