7 Consumer Brands Reinventing Marketing in the Metaverse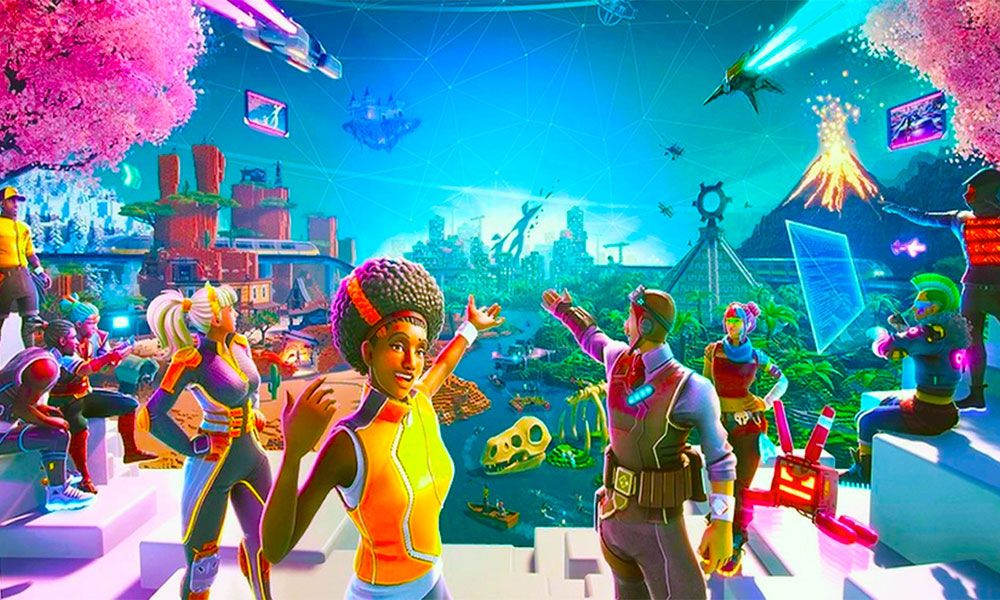 👋 Hi, I am Mark. I am a strategic futurist and innovation keynote speaker. I advise governments and enterprises on emerging technologies such as AI or the metaverse. My subscribers receive
a free weekly newsletter
on cutting-edge technology.
Only a few weeks ago, many had never heard of the metaverse, but since Mark Zuckerberg announced the rebranding of Facebook to Meta at the end of October, the metaverse is all over the news. Yesterday, also Microsoft announced their journey into the metaverse, and in the coming weeks,  all Big Tech firms will probably follow in some way or another. The more companies that announce their metaverse presence, the more important this successor of the social internet will be. Welcome to the immersive internet.
No article on the metaverse is complete without a reference to its origin. The metaverse is a term coined by novelist Neal Stephenson in his 1992 novel "Snow Crash". The novel defines the metaverse as a place where people use virtual reality headsets to interact in a digital game world. The novel has gone on to enjoy cult status, especially among Silicon Valley entrepreneurs, and HBO is turning the book into a series.
This interest and fascination of the metaverse have many tech firms currently working on some or multiple parts of the metaverse. Don't expect the metaverse as portrayed in Ready Player One to be available any time soon, though. Most of the technology is not ready, and we are still living in web 2.0, a centralised and closed internet controlled by Big Tech, the exact opposite of what the metaverse needs to be to become a success.
However, we are seeing the first signs of a metaverse in the making. There are plenty of, closed, metaverse spaces available already, including Fortnite, Roblox, VR Chat, or Minecraft. There are avatars walking around in cyberspace, developed by companies such as Ready Player Me, and the NFT craze has reached into the billions of dollars already.
These initial beginnings of the metaverse are already very exciting, and I am very much looking forward to the coming years when an open, decentralised and user-controlled metaverse will be developed (the exact opposite that Facebook wants to develop, although, of course, Mr Zuckerberg said differently, but we are used to that). That's why I am currently writing my fourth book on the metaverse: Step into the Metaverse: How the Immersive Internet Will Unlock a Trillion-Dollar Social Economy - now available to (pre)order!
The Metaverse: The Next Great Leap
Despite originating from a sci-fi novel, the metaverse has become one of the hottest buzzwords and latest obsession in the tech world. In the past years, companies have been pouring millions, or billions, into research and development. This poises the metaverse to be a vision for the future to which tech CEOs like Mark Zuckerberg and Satya Nadella are betting on to be the next great leap in the evolution of the internet.
In the coming years, the metaverse will be a place where the digital world and the physical world collide into what some people already call phygital. Satya Nadella described it in an excellent way when he said the metaverse will "embed computing in the real world and embed the real world into computing".
In this phygital environment, people can wander around to be with friends, attend events, visit new locations, and buy (digital) goods and services. Online multiplayer video games have provided a look into many of these realities. Although these closed environments prevent any interoperability (one of the critical characteristics of the metaverse), they have demonstrated some of the ideas and novel ways of engagement that can be achieved. One of the frontrunners is Fortnite, which has in recent years expanded its product, hosting concerts, brand events, and more inside its digital world. Fortnite and other platforms have shown us how the metaverse will change marketing for consumer brands.
The Rise of iCommerce
Maury Rogow, CEO of Hollywood's Rip Media Group, notes that retail will be one of the largest sectors in the metaverse. This is a realisation that is slowly coming into perspective, more so after the COVID pandemic. Covid lockdown measures and work-from-home policies pushed more people into buying goods and services online. Between 2020 and August 2021, the global e-commerce industry has grown by 25.7%. It is further predicted the sector will grow by another 16.8% bringing global eCommerce sales worldwide to $4.921 trillion before the year ends.
This growth is sufficient to increase competition, and forward-looking brands are looking for new ways to connect with their customers. In the coming years, we will see a significant increase in Direct-to-Avatar (D2A) purchases, meaning digital products are sold and used only in the digital world.
Consumers are now getting accustomed to the reality of shopping and socialising digitally through social media but also using AR filters, video games, immersive interactive and real-time content. This, together with the fact that the average human attention span is 8 seconds, has led retailers to redefine how they interact and sell their products.
This will result in an entirely new branch of online commerce, which I call iCommerce (immersive commerce). iCommerce is the activity of buying and experiencing digital products on the immersive internet, most likely in one of the many (upcoming) metaverse spaces. Just like with the start of eCommerce, those players that were first to explore this new field will stand to benefit the most. However, in the metaverse, business as usual will not get you very far. Creativity is a prerequisite to succeed in the immersive internet, and here are seven companies taking that to the next level. So, let's dive in to see which retailers are already metaverse-natives.
7 Companies Exploring The Metaverse
The metaverse will become a significant component of successful brand strategies. With the development of an immersive ecosystem, retailers will have new ways to increase brand loyalty and engage with their (future) customers by delivering a unique experience. Below are seven companies that are employing novel and highly innovative ways to connect with their customers. By being first to the metaverse, these companies show how marketing can be fun and engaging.
1. Wendy's – Keeping Fortnite Fresh
In 2018, Fortnite introduced a new event called Food Fight that enabled players to represent their favourite digital restaurant, Durr Burger (Team Burger) or Pizza Pit (Team Pizza) and fight each other, with the last person standing being declared the winner. Wendy's decided to join the game to make its advertising the audience's entertainment. They discovered that the burgers from Durr Burger were stored in the freezer, which is against Wendy's famous policy never to use frozen beef.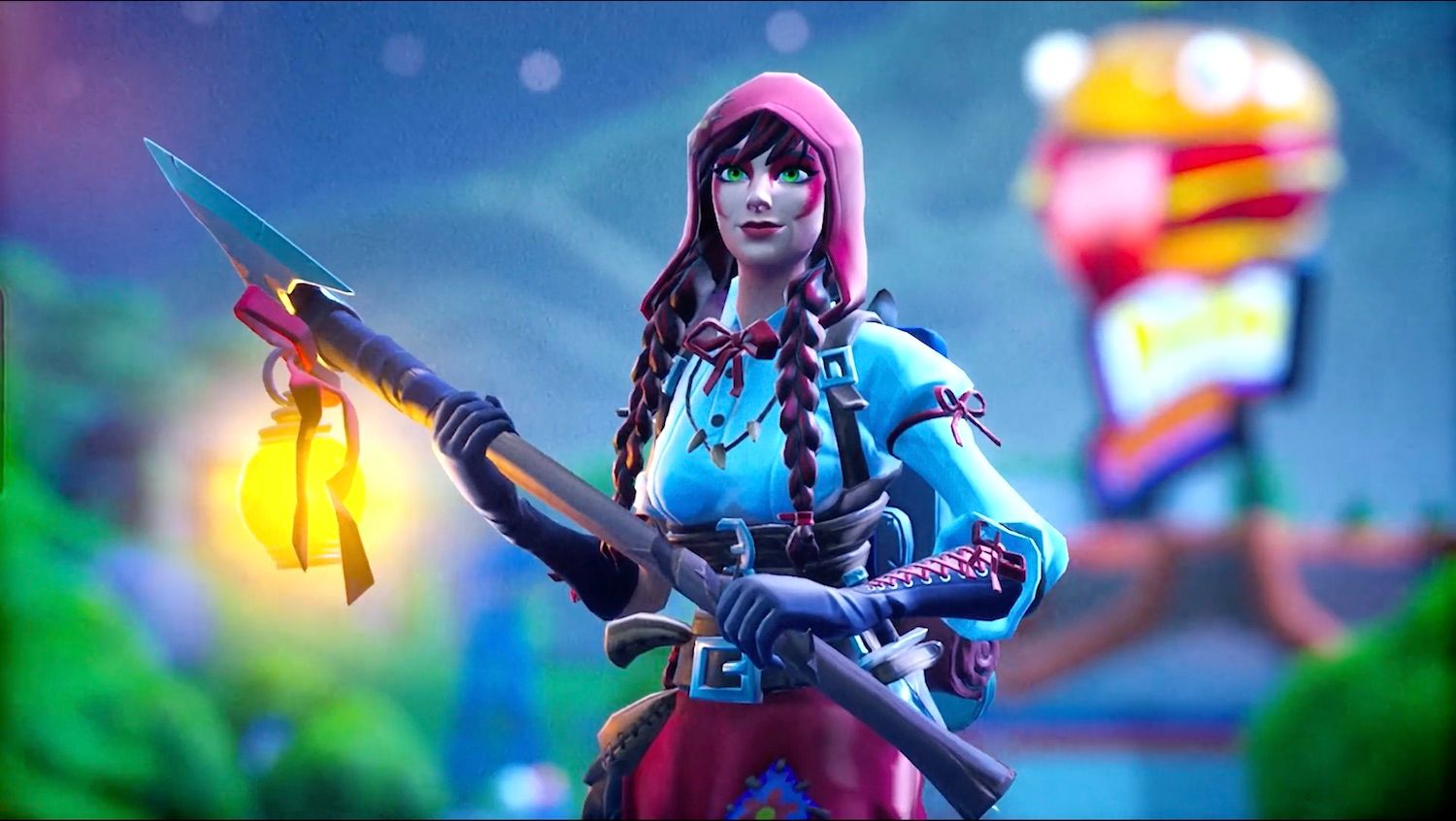 Wendy's immediately saw a new opportunity to advertise its "fresh, never frozen beef". They got on Twitch, created a character that resembles the brand's mascot, dropped it into Fortnite and started to destroy all the freezers in the game's Food Fight mode instead of killing other players. Wendy's live-streamed their quest on Twitch, inviting hundreds of thousands of players to watch and join them destroying freezers instead of killing other players. Over the course of nine hours of streaming, 1.5+ million minutes were watched on Twitch, and there was an increase of 119% of brand mentions across social media. The move paid off, with Wendy's even winning several awards, including eight Cannes Lions.
2. Coca-Cola – Auctioning NFTs
In July 2021, Coca-Cola launched a non-fungible token (NFT) collection that fetched $575,000 in an online auction. The company relied on the power of its brand to push forward its collection and raise over $500.000 for charity within 72 hours. Oana Vlad, Sr Director Coca-Cola Global Strategy, noted that moving into the NFT and metaverse is well-positioned to provide customers with "the same iconic and optimistic experiences they're used to in real life in the digital world."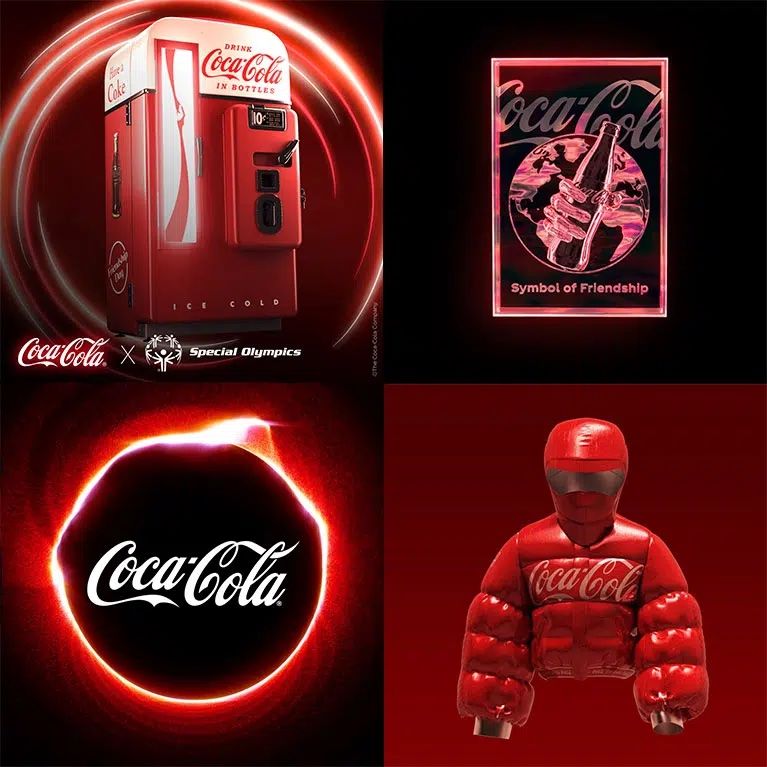 Coca-Cola auctioned four multi-sensory, friendship-inspired NFTs via the OpenSea marketplace on International Friendship Day. It was auctioned off as one loot box, a play on the popular video game feature involving sealed mystery boxes. Not only did the winner become the owner of these four NFTs, but the winner also received a real-world physical fridge stocked with Coca-Cola bottles and additional surprises.
The NFT auction resulted in a strong buzz in the crypto community and portrayed Coca-Cola as an innovative brand that knows very well where its customers are.
3. Gucci – Selling Digital Bags That Are More Expensive Than the Physical Bag
Also in 2021, Gucci collaborated with Roblox by selling several rare Gucci items on the Roblox platform. For two weeks, the fashion house created a unique virtual garden exhibit, accessible exclusively on Roblox. The virtual exhibition was part of Gucci's Archetypes, a 2-week immersive multimedia experience in Florence, Italy, that explored and celebrated the brands' 100th birthday.
The physical exhibition dove into the world of Gucci's advertising campaigns and largely comprised of inspirations such as music, art, travel, and pop culture. Each venue was divided into exhibition rooms by theme, which reproduced the diverse and fascinating world of Gucci's advertising campaigns. With cutting-edge technology, handicrafts by artisans with the utmost precision, and innovative interior designs, the exhibition presented the diverse and immersive space and made visitors feel as if they were in the advertising campaigns of Gucci.
For two weeks in May, the virtual Gucci Garden space was available to everyone on Roblox. Those who attended were able to view and experience the vision, aesthetics, and inclusive philosophy of the brand's creative director Alessandro Michele through 15 past advertising campaigns by Gucci. The house dropped limited edition items such as Virtual bags on Roblox platforms.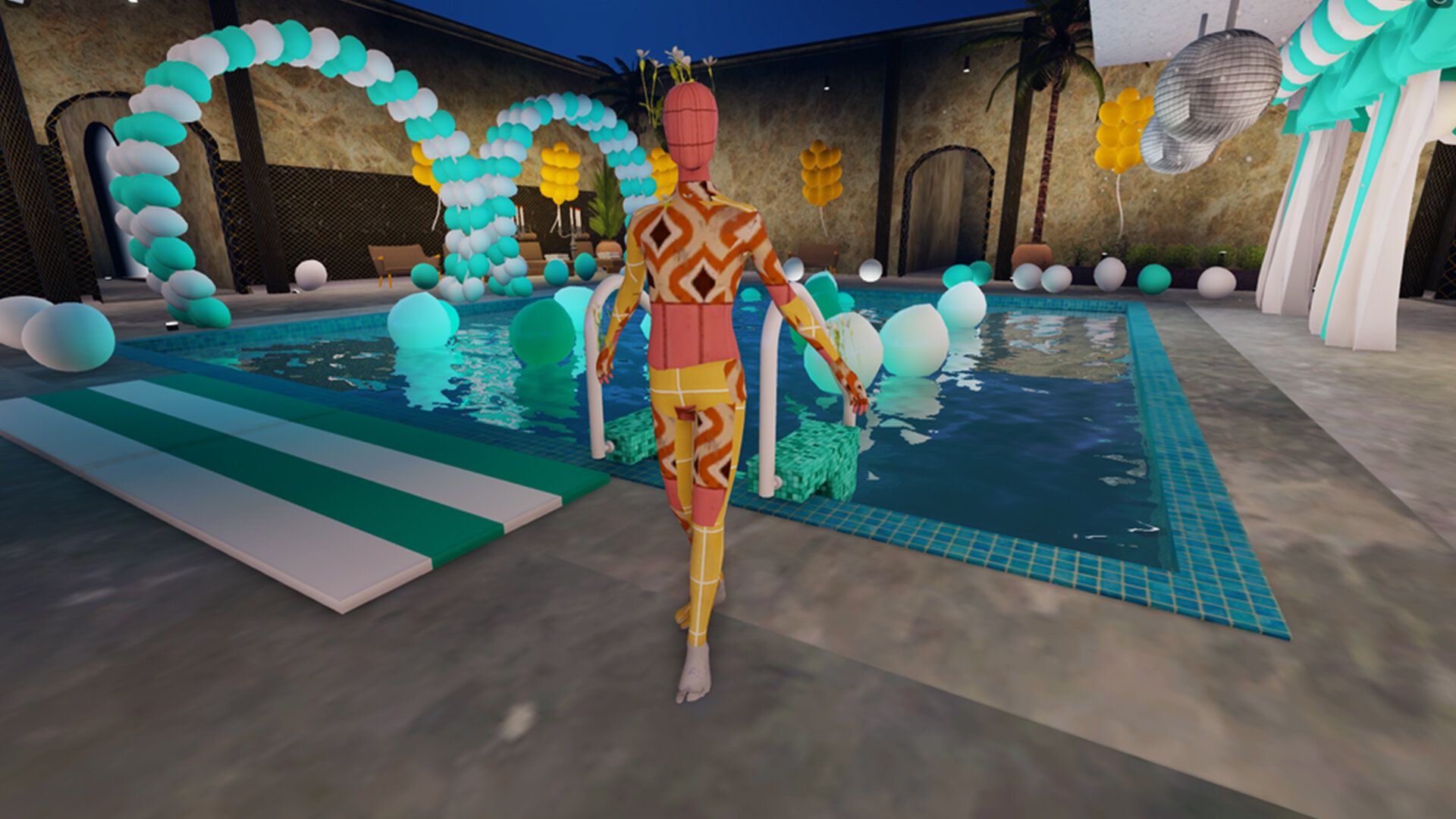 The Roblox experience mimicked the physical experience, enabling Roblox users to purchase digital clothing only available for a limited period of time, creating a feeling of scarcity and increasing the prices. Some of these items were re-sold for ridiculous prices, with one Gucci Dionysus Bag With Bee eventually re-selling for 350,000 Robux, the platform's in-game currency, or $4,115, which is more than a physical bag's $3,400 retail value. All the buyer got, however, was a set of exclusive pixels to be used solely inside the Roblox platform, not the kind of interoperability one would expect from a $4,115 bag.
Since then, the exhibition has toured several cities around the world, including Shanghai, Tokyo, Los Angeles, and Paris. Due to the travel restrictions of the pandemic, Gucci also decided to create a virtual tour of its Gucci Garden, which is still available. Visitors are treated to mythical arks, space explorers, horses, angels, and aliens, as well as spectacular journeys that explore the vision of Alessandro Michele. They leave having experienced a unique and immersive way of shopping in both the digital and real world.
4. Louis Vuitton – Louis The Game
The metaverse promises a highly connected life. It will bring forward a digital revolution in which our physical and virtual lives fully converge. We will be connected in unimaginable ways while every entity within the digital world will need to be represented. This means objects can be owned, sold, or transferred within the metaverse—this is where non-fungible tokens (NFTs) come in. NFT technology will grant holders true ownership over digital items.
This is a concept that Louis Vuitton is looking to capitalise on. In their recent celebrations for Louis Vuitton's birth (August 4, 1821), the fashion house developed: Louis The Game; a video game that combines its heritage, innovation, and NFT art. It stars Vivienne, a playful character who resembles Louis Vuitton. Players within the game can travel into a world where they explore fashion house legacy over the years and collect monogram candles, which serve as keys to access more level.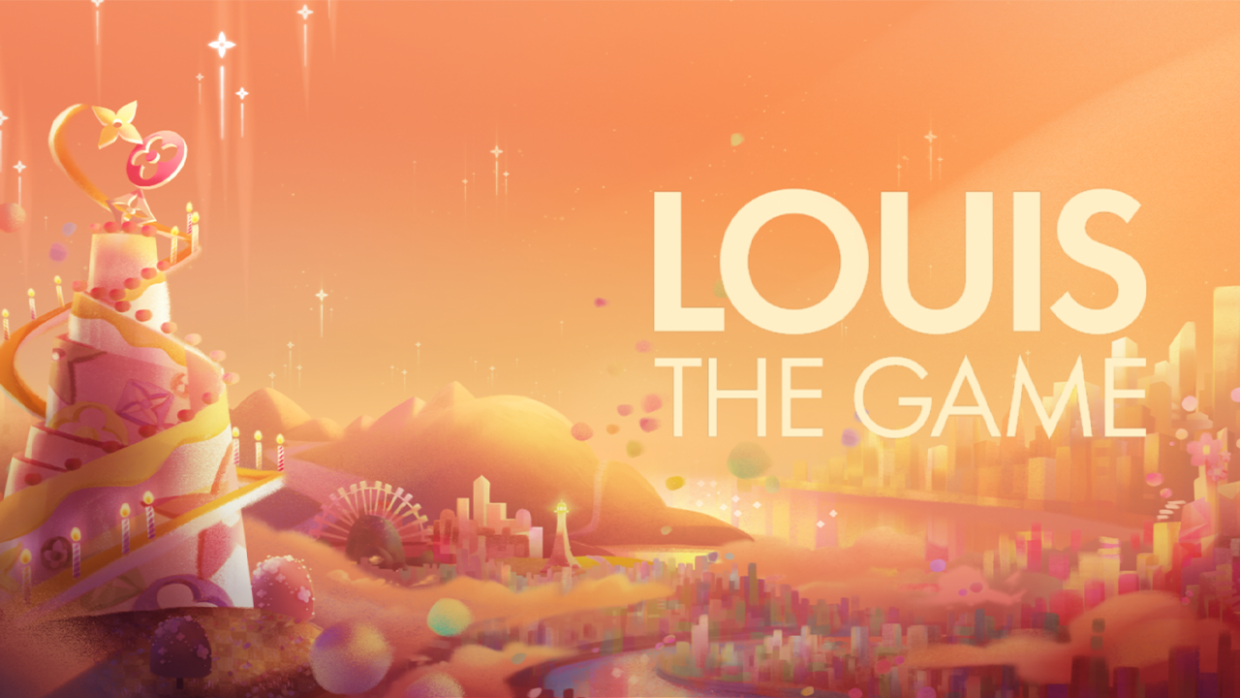 The game integrates cutting-edge blockchain technology by including 30 NFTs. The fashion house collaborated with digital artist Mike 'Beeple' Winkelmann to develop 10 of the 30 NFTs. Ten of these were created by digital artist Mike Winkelmann. Mr Winkelmann, who also goes by the moniker 'Beeple', is an accomplished artist whose most notable work is Everydays: the first 5,000 days. In March 2021, this work was sold for $69.3 million, which is the current record for any digital artwork.
In the game, available both in the Apple Store and Google Play,  NFTs will randomly appear as players move through the game's various levels. They are collectibles but not for sale. They then have a chance to attain and stock the NFTs in a digital wallet that users can only access after the end of the year. The game is fun and transgenerational with its take on the fashion house's heritage and NFTs. Louis Vuitton hopes that through the game and future developments, the collection of NFTs will attract and maintain customers to their world of fashion.
5. Burberry – Honor of Kings
Just like Louis Vuitton, Burberry is venturing into the metaverse, intending to give its customers a pleasurable experience that nears that of the real world. The fashion brand recently collaborated with the video game Honor of Kings, bringing Burberry designs to the game. The collaboration is inspired by Burberry's fascination for fashion, and the unique relationship shared between humans and nature. This is well seen in Yao, the female protagonist. Her clothing and ability to transform into a deer embody nature's spirit and Burberry's house code expression of fashion within the animal world.
In the game, we come to see Yao in two sets of outfits. The first is a beige cotton trench coat that spots Burberry house check on the inside. The outfit also comes with high boots, cropped top, and shorts. Tisci's S/S 21 collection inspired the second outfit for Burberry. It comprises a crystal-embroidered vest, bib-front trousers, a royal blue trench coat, and black leather wader boots. Any fan interested in any of the outfits from the game can go online to purchase them and in any Burberry stores near them.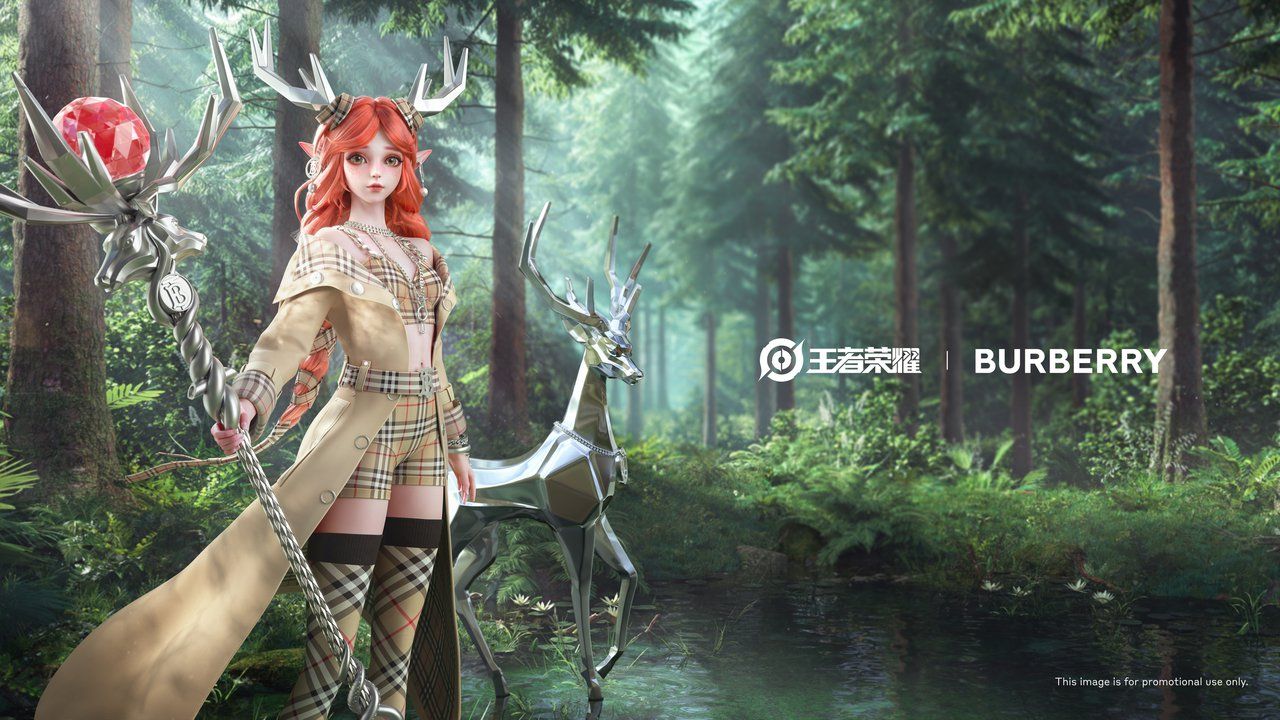 Venturing into the video game world is something new for the London-based fashion house. The collaboration with Honor of Kings will help the fashion house better explore and understand humans' relationship with adventure and the metaverse. This is something that Josie Zhang, the President of Burberry China, strongly seconds. In an interview, she stated that "By allowing our Chinese customers to explore virtual products through the medium of online games, we can connect with our communities in a way that really resonates with them. It has been fantastic to work so closely with Tencent to bring this new customer experience to life." The collaboration is indeed a step forward to how fashion and gaming can merge to attract and maintain clients.
6. Balenciaga – Digital Fashion in Fortnite
On September 13, 2021, Kim Kardashian downed an all-black attire by Balenciaga at the Met Gala. Her outfit drew a lot of conversation online, even with the Fortnite community. Some within the community saw a close comparison between her attire and locked characters within the video game.  The rumours came true when Balenciaga announced they had collaborated with Epic Games, the developer of Fortnite, to bring the fashion house's signature clothing and apparel into the game.
Balenciaga's iconic collections inspire the clothing: the new Balenciaga Fit Set of outfits for players introduces fresh looks for four of Fortnite's fan-favourite characters – Doggo, Ramirez, Knight, and Banshee. The new outfits are completed with exclusive Balenciaga backblings, pickaxes, and more, for players to express themselves in completely unique ways.
To accompany the digital apparel set launch, the two companies also debuted a community-driven living lookbook campaign via the Strange Times Featured Hub inside Fortnite. At the centre of the campaign sit the Balenciaga retail stores appearing in Fortnite showcasing the virtual community's fashion on billboards, mashing up the player's self-expression with unexpected elements.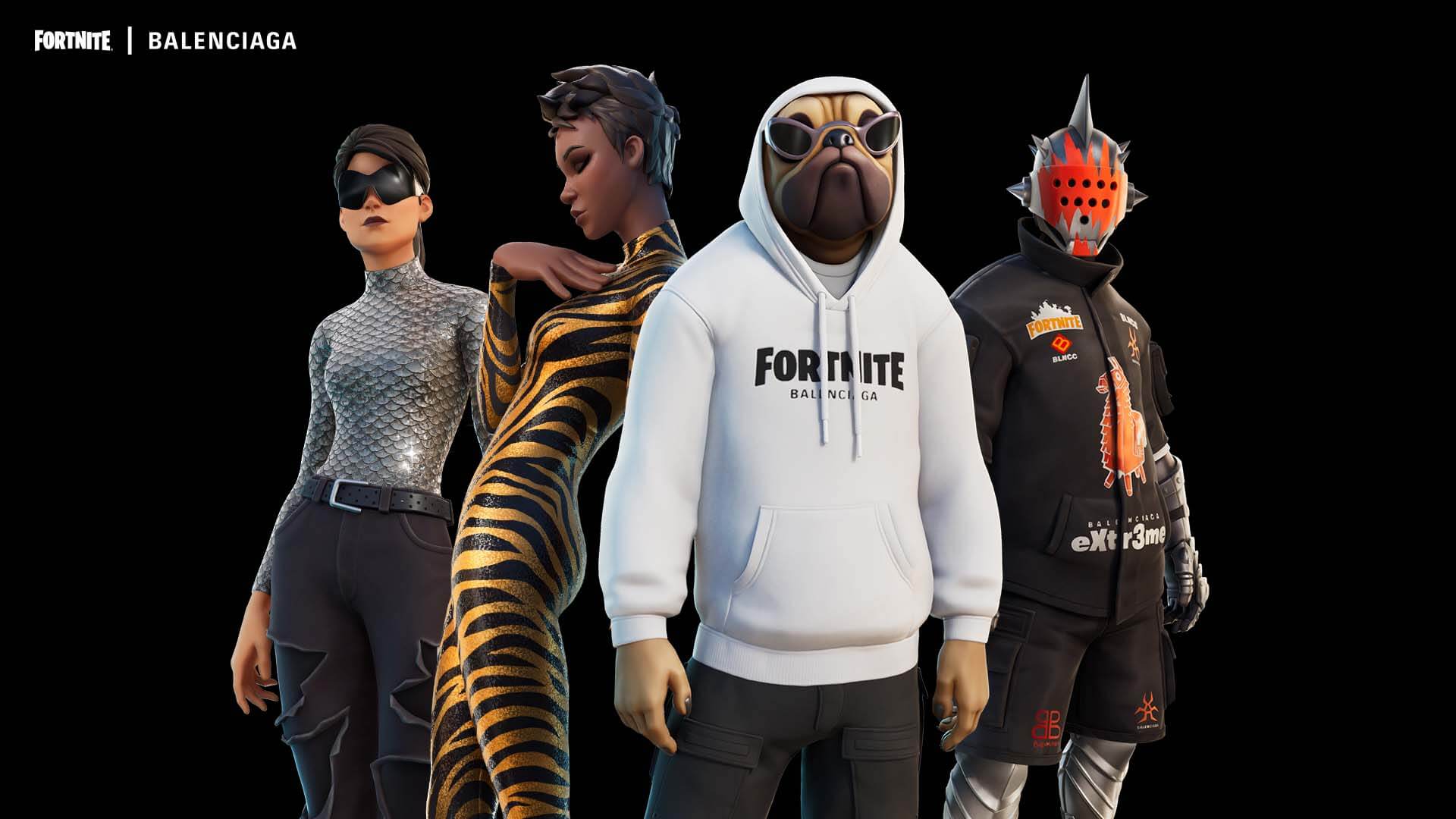 Both brands also debuted a limited-run collaboration of physical apparel exclusively available in select Balenciaga stores and Balenciaga.com. The new line featured hats, tees, hoodies, and more inspired by the community-favourite point of interest (POI) Retail Row and was on sale globally from September 20. Adam Sussman, President at Epic Games, expressed confidence in the collaboration by stating, "Self-expression is one of the things that makes Fortnite so unique, and there couldn't be a better first fashion partner than Balenciaga to bring their authentic designs and trendsetting culture to millions of players around the world."
7. Nike – Creating Immersive Experiences
Intending to remain relevant and a top retailer, Nike took a deep dive into the metaverse by creating user-driven, fully immersive digital experiences that connect with their physical offering. The company even hired a Director of Metaverse Engineering. The company has utilised augmented reality (AR) tools to bring together fashion, entertainment, and gaming innovations. Early this year, the company unveiled an interactive experience that utilises virtual and augmented reality in its retail process.
From February 4 to 11, 2021, customers could visit Nike's House of Innovation in New York. Simply using their mobile phones and other virtual and augmenting tools, visitors could explore a virtual recreation of Smith Rock State Park in Oregon. Visitors could easily access the House of Innovation through a personalised checklist and digital map upon accessing the virtual world. The activities within the location were made as interactive and fun as possible with the aim of intriguing customers. To achieve this, the fashion house partnered with Hovercraft, a brand experience company.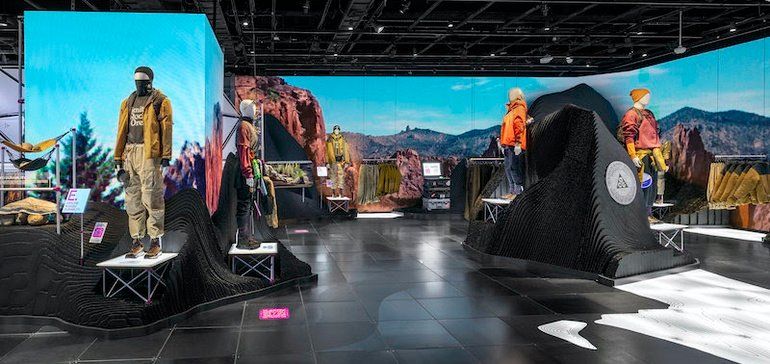 Matt FaJohn, a partner at Hovercraft, notes that Nike has capitalised on a useful tool to digitally tell and deliver a story by utilising AR and QR-code scanning. Especially during times of social distancing, such personal experiences can be useful to continue to connect with customers.
However, creating virtual, immersive experiences is not the only way Nike is exploring the metaverse. Nike is quietly preparing to enter the metaverse and sell digital versions of their branded sneakers apparel in various metaverse spaces. Bloomberg reports that Nike files seven requests to use their iconic swoosh logo and the "Just Do It" slogan in virtual goods. It seems that entering the metaverse is a priority for Nike, and consumers can expect several virtual rollouts in the coming months.
Final Thoughts
The metaverse will completely change how we interact with brands. The metaverse will affect industries, but the companies that can benefit the most from the metaverse are global consumer brands. Due to its nature, the immersive internet will enable prolonged engagement with brands as long as these experiences are unique, creative and social.
The above examples showcase that, with the metaverse, marketing will no longer be business as usual. Instead, it will be fun, and marketers will only be bound by their creativity and resources. The sky will be the limit. For consumers, this means that we can expect some fantastic immersive experiences in the years ahead, potentially increasing brand loyalty for those venturing into the metaverse first.