Creating Bespoke Metaverse Worlds with Paul Hamilton - Step into the Metaverse Podcast: EP10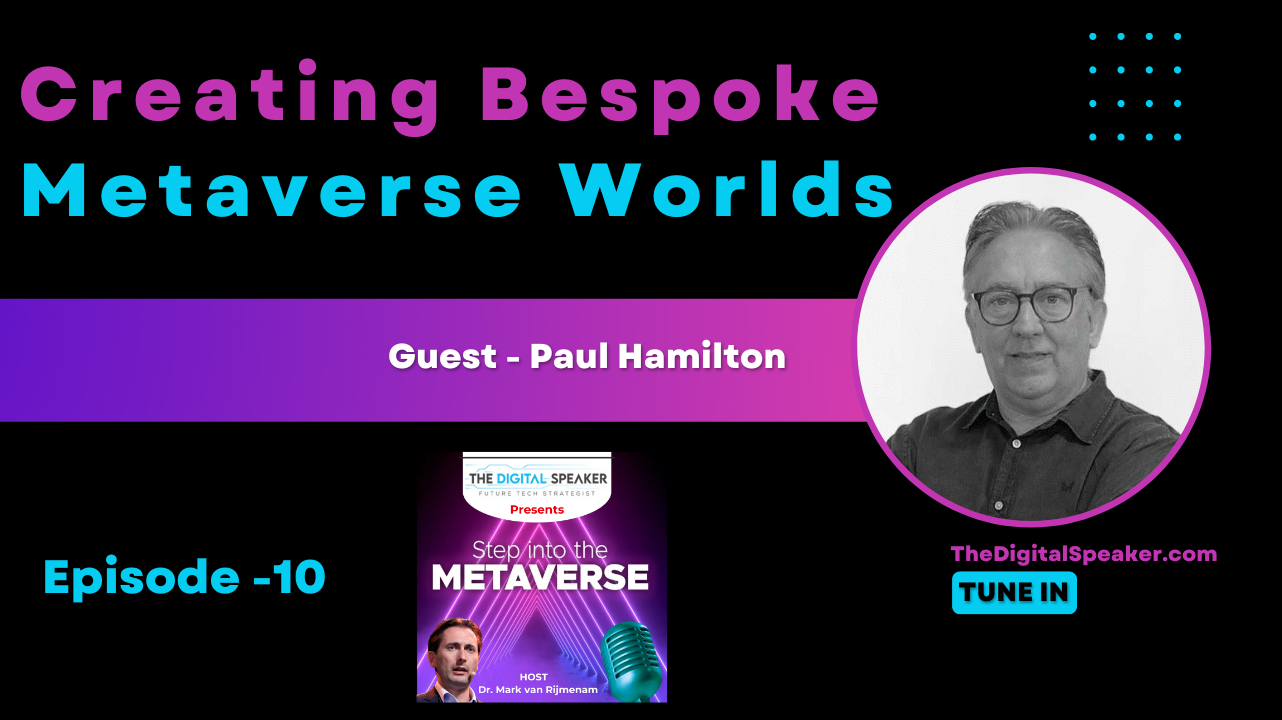 👋 Hi, I am Mark. I am a strategic futurist and innovation keynote speaker. I advise governments and enterprises on emerging technologies such as AI or the metaverse. My subscribers receive
a free weekly newsletter
on cutting-edge technology.
In this episode of the Step into the Metaverse Podcast, I interviewed Paul Hamilton, the Founder of vTogether, a consultancy and virtual space design and build team making good things happen in the real world across multiple VR platforms. He is also the Managing Director of MENA Ogilvy Consulting. Paul has been designing, building, and leading strategic innovation on the global growth agenda for over 30 years.
He combines creativity with top-level strategy, digital and innovation leadership using design thinking and human-centric approaches, traditional analytical strategy tools and techniques, and, more recently, applications of AR/VR.
During the interview, we discuss the key characteristics of building an open metaverse, community role, and how we can create a diverse and inclusive metaverse. We also cover the role of identity, how avatars will help shape the metaverse and true identity, the dangers of the metaverse, how the enterprise can benefit from the metaverse, and so much more. Enjoy the conversation!
Highlights
[01:23] - His illustrious career and how he got into the metaverse.
[05:07] - The present and future nature of the metaverse.
[10:30] - Building all-inclusive communities in the metaverse.
[15:45] - How to build a rich and vibrant metaverse economy.
[19:32] - vTogether's way of creating bespoke virtual spaces.
[21:35] - Multiple IDs: How the metaverse will change identity.
[26:01] - Envisioning a fun metaverse that will change the future of work.
Quotes
"The metaverse is a place and has some sense of reality, and yet there are no bounds to that reality because it's digital. We can make it whatever we want" - Paul Hamilton
"There is a kind of end game where the metaverse does become a set of virtual environments through you can move freely whilst retaining your persona" - Paul Hamilton
"A lot of the mental health challenges that people face around the world is not being able to express who they are. Well, you can do that in the metaverse in a community and in an environment that exists anywhere in the world at any time of day or night" - Paul Hamilton
Learn More About Paul Hamilton in the Links
If you are interested in learning more about the metaverse, you can order my book Step into the Metaverse here.