Driving Brand Loyalty Through the Metaverse with Lindsey McInerney - Step into the Metaverse podcast: EP13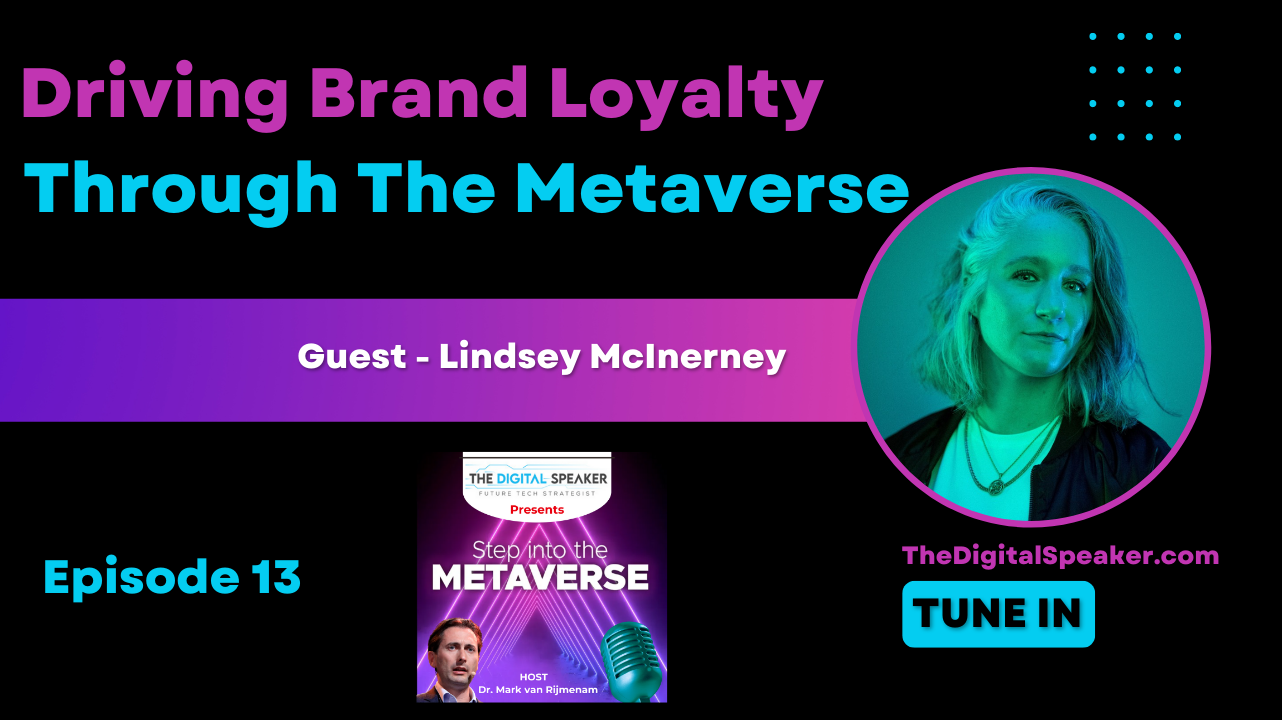 👋 Hi, I am Mark. I am a strategic futurist and innovation keynote speaker. I advise governments and enterprises on emerging technologies such as AI or the metaverse. My subscribers receive
a free weekly newsletter
on cutting-edge technology.
In this episode of the Step into the Metaverse Podcast, I interviewed Lindsey McInerney, the Co-Founder and CEO of Sixth Wall, a new venture exploring the intersection of web3 and entertainment and the digital arm of Mila Kunis' Orchard Farm Productions. Lindsey calls herself an early internet nerd and tech futurist. She is consumed by the metaverse's emergence and excited about how crypto, blockchain, gaming, NFTs and XR will change our current digital and physical landscape.
As a former global head of technology and innovation at AB InBev, the world's largest brewer, she learned to brand into the metaverse. Tune in as we discuss the important role that NFTs will play in the metaverse, what brands need to do if they want to become successful in the metaverse, how the metaverse will change the future of work, as well as the ethical challenges of the metaverse. Enjoy!
Highlights
[01:18] - From working for AB InBev to becoming a tech futurist.
[03:53] - Why brands have to enter the metaverse in a way that is natural to them.
[07:21] - Her personal experience of owning a Bored Ape and her thoughts on the importance of NFTs.
[10:57] - The role of creators (And community) in making the metaverse a reality.
[11:44] - How play-to-earn will affect the metaverse.
[13:14] - Brands that are taking the lead in venturing into the metaverse.
[16:00] - Basics to achieving success in iCommerce.
[22:23] - The metaverse from an enterprise perspective.
[23:54] - Hedging Web3: Avoiding the mistakes we made in Web2.
[30:15] - Creating a world that will positively impact humanity.
Quotes
"The metaverse is the future of sports, media and entertainment" - Lindsey McInerney
"If crypto is the currency, NFTs are the assets. They are what will allow us to own objects in the metaverse" - Lindsey McInerney
"We'll see a whole bunch of new jobs and job titles emerge within the metaverse and that's because there will be an economy there" - Lindsey McInerney
"The big brands of the Web3 space will be decentralized, co-owned, and built by community" - Lindsey McInerney
Learn More About Lindsey McInerney in the Links Below:
If you are interested in learning more about the metaverse, you can order my book Step into the Metaverse here.