Why the Metaverse Will Usher in the Experience Era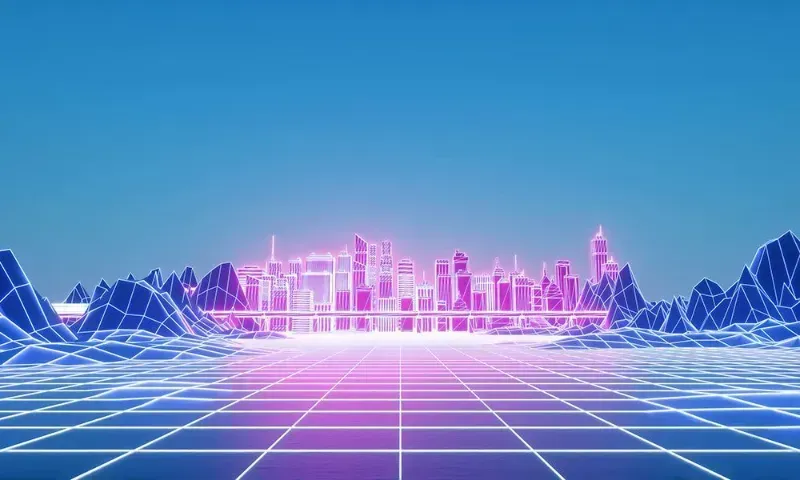 👋 Hi, I am Mark. I am a strategic futurist and innovation keynote speaker. I advise governments and enterprises on emerging technologies such as AI or the metaverse. My subscribers receive
a free weekly newsletter
on cutting-edge technology.
The metaverse is the next evolution in the way we will work, live, and play. It will be a world where the physical and digital worlds merge, and all of our data, including identity, personality, reputation, and assets, can be used in new ways so that people can create their own unique, magical experiences, environments and interactions.
In the metaverse, you are free to be who you want, regardless of your physical limitations, offering never-before-possible ways that individuals can explore their identity. By continuously advancing (digital) technologies, we will step into the metaverse ushering in the experience era.
The result will be more engaging work experiences, new ways to learn and novel ways to connect with customers. Earlier, in my job as a futurist, I covered how the metaverse will change the employee experience; let's now look into how the metaverse will change how we learn and how we promote products and services.
Learning and Development in the Metaverse
One of the most exciting developments in the metaverse is those in learning and development. This includes education for children, skill-based learning (such as fixing your washing machine with augmented reality) and training in the corporate world, offering new learning experiences.
Corporate Training in the Metaverse
Digital twins or replicas of factories can be used to train (new) employees in a safe working environment until they master the skills to go out in the real world and work with the (advanced) tools. Jeremy Bailenson, founding director of the Stanford Virtual Human Interaction Lab (VHIL) and founder of the VR training company Strivr, called education and training the "home run" use case. Since 2015, Strivr has been creating software that allows customers to develop VR training programs focused on health and safety and customer service training. They worked with Walmart to train employees using immersive experiences, resulting in a 30 per cent increase in job satisfaction and a 15 per cent increase in knowledge retention rates.
In the metaverse, skills development and training could be revolutionized, drastically reducing the time needed to acquire and develop new skills. For example, an AI-enabled digital coach could provide employees professional advice and training assistance. In addition, all objects (e.g., a training manual, machine, or product) could become interactive, providing 3D displays and step-by-step instructions. A great example is when manufacturing giant Bosch and Ford Motor Company pioneered a VR training tool, using the Oculus Quest headset, to train technicians in electric vehicle maintenance.
The potential for workers worldwide to learn new skills and how to operate complex machines without risking being harmed or damaging the physical machine are practically endless. From employee onboarding, learning safety and security processes, preparing for rare and unexpected events, and improving customer-client interactions, virtual reality will offer new ways to learn a new skill faster and more efficiently.
Education in the Metaverse
In my new book, I also cover how the metaverse could change education as we know it. I would argue that teaching children is the most important task if we want to advance our society; after all, the children will be the innovators of tomorrow.
The fact that we have not innovated our teaching methods in the past 100 years while having all these technologies available is remarkable to me. We stick to the old paradigm of teaching children traditional subjects in a traditional way, most of which will become useless in the next decade.
Instead, we should teach our kids research and analytical skills, so they know how to form an opinion and self-educate, how to be adaptive and deal with rapid change, and how to use and apply technology (responsibly) by teaching them programming, robotics, and ethics. Above all, we should embrace the latest technology, from AI coaching to virtual and augmented experiences, to prepare our children for a world that will look fundamentally different by the time they finish school.
Research has shown that passive teaching methods are ineffective in transferring knowledge. The least effective approach is a lecture. Long-term retention rates of the knowledge shared in a typical lecture where the teacher stands in front of a class and talks are around 5 per cent while reading about a topic only marginally improves the retention rates to 10 per cent. However, participatory teaching methods drastically improve the memory retention rates, with group discussions bringing it to 50 per cent and learning by doing to 75 per cent. Hearing and reading can be helpful in some use cases, but the best would be to learn by doing, and that is where AR and VR come into play. After all, practice makes perfect.
In this sense, the metaverse aims to achieve more interactive and immersive content and promote networking inside and outside the classroom. One initiative in this direction is the platform created by KaiXR from California to promote a space where children can learn in an interactive and immersive way, using the technology that surrounds us today. Although some believe that VR is not suitable for (very) young children, there has been limited research to prove that, and the opposite could actually be true, as young brains are flexible. They could potentially adapt quicker to an immersive digital environment. The school of tomorrow could (and should) look fundamentally different from today's learning environments.
Imagine a history teacher that offers VR classes combined with a discussion with the group after the class has experienced Ancient Rome using virtual reality. It would allow students to enter a virtual environment, interact with the teacher and fellow students, pause or play back a scene or session, and notice new things every time they visit or replay a scene. It would allow the children to experience a new environment in a safe and controlled environment and explore knowledge from a different perspective while being fully engaged. We could teach children the world of quantum mechanics by literally stepping into the microscopic world or showing the effects of climate change on any environment. The potential is endless, and it would probably result in a fun learning environment and the best ratings for the teacher and school.
Metaverse and Experience Marketing
What can be done to change education can also be done for marketing. After all, marketing is about educating future customers about your product; the best way to do so is to offer them an experience.
With the immersive internet taking off, more and more organizations are stepping into the metaverse. When businesses want to venture into the metaverse to connect with consumers, it is wise to involve the creators, the artists, and the influencers who already have an in-depth understanding of the various virtual or augmented reality applications.
This also means that if you are new to the metaverse and want to enter a new community, be sure to be humble as a brand, even if you are a multinational organization. According to Justin Hochberg, founder of the Virtual Brand Group, brands tend to enter a creative community and turn it into the Super Bowlhttps://www.linkedin.com/in/justin-hochberg/. Instead, brands can benefit a lot more if they become part of the community and do not bombard the community with advertising messages. This applies especially to the metaverse.
4 Ways the Metaverse will Change Marketing
Brands that do step into the metaverse have an opportunity to demonstrate leadership, associate themselves with innovation, and tap into new communities and channels, especially if they display authentic behaviour and closely align their immersive experience with the community they intend to reach. Gen Z and Gen Alpha are the creator generations. They are ready to participate and generate content with you, so you should create such opportunities as a brand.
The immersive internet requires a different perspective when reaching your target group. Brands would need to rethink how to create content, how people can interact with that content, and the capabilities and utility of that content. From promoting artistic creativity to community building, we can expect a broad range of marketing innovations in the coming decade as we move from social media marketing to metaverse marketing and brands learn new ways to engage and enlighten consumers.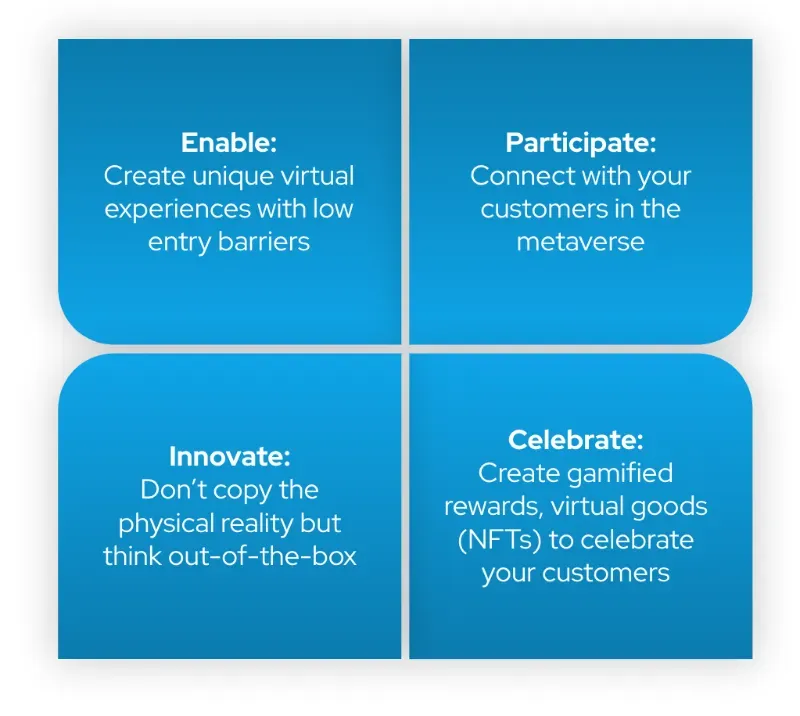 Overall, there are four ways that the metaverse will change marketing, and these include:
Enable: Brands should create unique virtual experiences with low entry barriers. This means enabling a seamless experience for your customers to interact with you in an immersive way.
Participate: Connect with your customers in the metaverse and do so where your customers are. This means building up a presence in the new virtual worlds ranging from Roblox, Decentraland to The Sandbox or any of the hundreds of new worlds now being created.
Innovate: Don't copy the physical reality but think out of the box. Remember, in the metaverse, the laws of physics do not apply, so there is no need to copy a physical store exactly in the virtual world. Be creative.
Celebrate: Create gamified rewards , virtual goods and NFTs to celebrate your customers. Offering unique NFTs with utility is a great way to celebrate your customers and offer an experience that will grow engagement and loyalty.
Metaverse marketing is about offering an experience that should revolve around storytelling. Storytelling has always been at the heart of a brand's journey and how they connect with consumers. In an immersive digital environment, the narrative around a digital asset is as important as the asset itself, and organizations should experiment with new experiences.
The Metaverse Festival in Decentraland
What better way to experiment with metaverse marketing than during the metaverse fashion week? From March 23-27, 2022, the metaverse fashion week was held in Decentraland, bringing digital runway shows, shopping, after parties and panel talks to the virtual world. More than 50 luxury and digital brands stepped into the metaverse for a unique experience for four days.
Selfridges, the UK retail chain of high-end department stores, displayed 12 unique NFT dresses by Paco Rabanne and was inspired by Op Art movement pioneer Victor Vasarely. The exhibition mimicked a physical exhibition happening around the same time in Selfridges London. The luxury fashion house Dolce & Gabbana unveiled multiple outfits designed for the metaverse, which were presented using avatars looking like cats.
Plenty of brands also sold their (digital) fashion items to fashion week visitors. Brands such as Tommy Hilfiger and Hugo (the Gen Z brand by Hugo Boss) partnered with the Web 3.0 startup Boson Protocol to enable users to buy physical products as NFTs during the fashion week. This allowed users to dress their avatar in Tommy Hilfiger or Hugo while also receiving the physical item at home. A great combination of the physical and virtual converging into a phygital experience. Not only fashion brands joined, but also the beauty brand Estée Lauder participated, giving away 10.000 digital wearables as NFTs, which were based on its famous Night Repair Serum, giving avatars an aura of sparkles and gold glitters.
As the event took place on Decentraland, the entire event was blockchain-based, ensuring the interoperability of the NFTs that users bought. However, reviews from attendees also indicated that the graphics were below-average, and there were plenty of glitches compared to other digital fashion shows because Decentraland is blockchain-based and has restrictions on 3D design capabilities. Despite these glitches, over 100.000 unique attendees attended the digital fashion week, and they saw a large variety of brands experimenting with metaverse marketing and NFTs in unique ways. If done correctly, NFTs are a fantastic marketing tool, and the brands who joined the metaverse fashion week have learned valuable lessons on how to connect with Gen Z and Gen Alpha in the metaverse.
Metaverse Marketing is Experience Marketing
Starting with small experiments is recommended when you want to start as a brand. For example, Taco Bell, an American fast-food chain, recently made tens of thousands of dollars after releasing a series of NFTs. While profits were modest for the well-established brand and the GIFs of a taco did not offer any utility, it shows that if a fast-food restaurant can sell NFTs of floating tacos and make money, then other companies can create unique NFT campaigns to offer a brand experience for users.
Due to the near-infinite possibilities in the digital world, brands have an opportunity to generate unique and engaging content that brings happiness to people. To quote the famous Don Draper, "Advertising is based on one thing: happiness." It keeps people engaged and wanting to belong to a brand or community. The ideas behind it determine the success and impact on a brand's reputation and bottom line.
Final Thoughts
With the immersive internet undoubtedly changing how we experience things, whether it is education or connecting with brands, it is essential to remember that it is still early days. One could argue the metaverse is where the internet was at the end of the 1990s, so much work still needs to be done.
Regardless of what virtual or augmented experience you will be in, and irrespective of the objective (education or marketing), user-generated content will play an increasingly important role in the metaverse. Whether this involves designing and creating games, immersive songs, volumetric media, educational environments, or the virtual worlds, art, and avatars that will liven up the next version of the internet, the metaverse will be a creator economy, and user-generated content will be everything.
The result is the Experience Era, where everything that we do can be a unique and immersive experience, which will likely make work, education and connecting with brands a lot more fun. We are in for some magical experiences in the coming decade, and we have only seen the tip of the iceberg of what will be possible.