Why the Metaverse's Future will not be Decentralized with Robert Rice – Step into the Metaverse podcast: EP19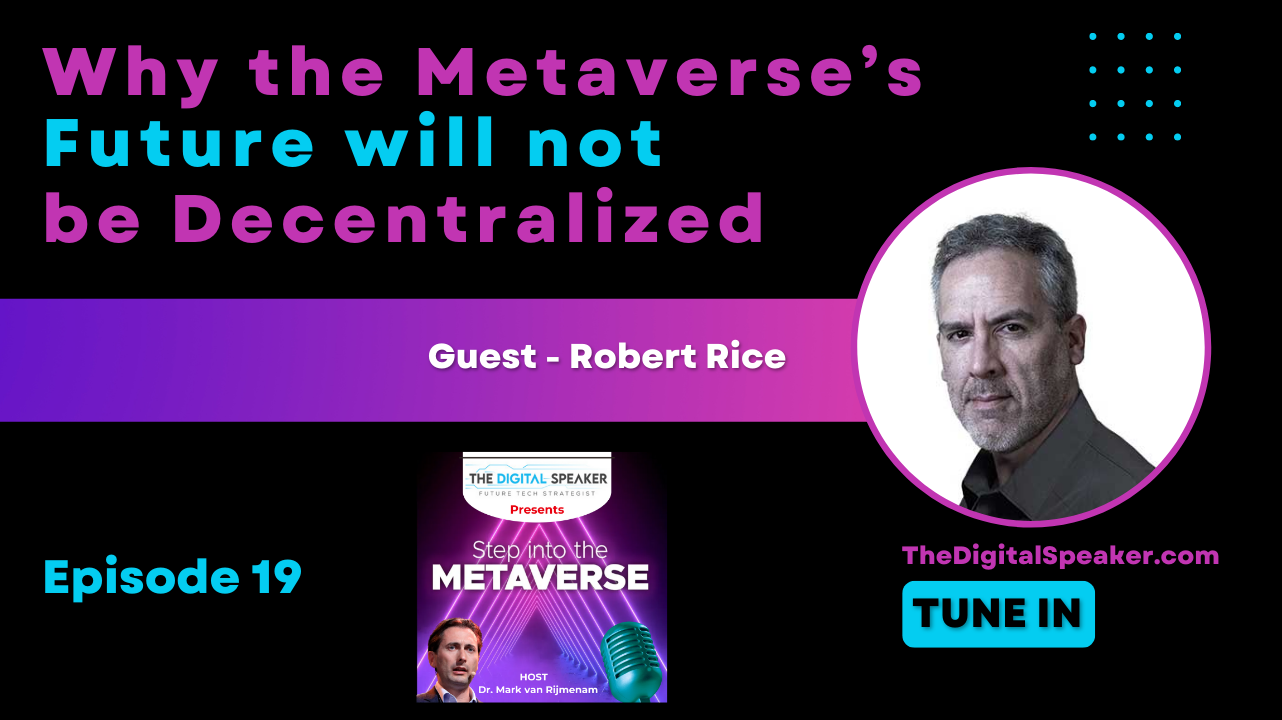 👋 Hi, I am Mark. I am a strategic futurist and innovation keynote speaker. I advise governments and enterprises on emerging technologies such as AI or the metaverse. My subscribers receive
a free weekly newsletter
on cutting-edge technology.
In this episode of the Step into the Metaverse Podcast, I had a chat with Robert Rice, the Founder and CEO of Transmira, Inc., the developer of Omniscape, an XR platform seamlessly blending Augmented and Virtual Reality together, focusing on location and monetization. He is an experienced technology and startup executive and advisor with over 25+ years of experience. Noted as an Internet Gaming Pioneer by Advertising Age magazine in 1996, Robert was also called a "Founding Father of the Digital Nation" in 1998 by The Raleigh News & Observer.
He is an authority on mobile augmented reality, persistent immersive environments, virtual reality and worlds, massively multi-user online games, and simulations. Robert coined the term "XR" in 2014 as an umbrella term for AR, MR, and VR together or in a seamless combination of each together. It is now an industry standard term.
During the interview, we discussed how XR will change our society in the coming decade, the centralized versus decentralized metaverse, and how we move from one metaverse space to another. We also covered the role of digital twins and some of the dangers we can expect in the metaverse. Stay tuned for more.
Highlights
[01:29] - His Tron-inspired passion for everything metaverse.
[04:53] - How the XR platform he's developing is different from others.
[07:59] - What the metaverse really is and the expected evolution of VR, AR, and XR in the next decade.
[14:02] - Why Decentralization might never really happen.
[18:52] - NFTs 101: Scarcity Vs ownership of digital assets.
[23:02] - An analysis of real estate investing in the metaverse.
[27:39] - Moving from one metaverse space to another from a user experience and technical perspective.
[30:45] - The numerous possibilities in creating digital twins for enterprises.
[35:27] - Privacy and other ethical challenges that will arise with the metaverse.
Quotes
"I think this concept of a decentralized metaverse is never going to happen, but I think it will be distributed though" - Robert Rice
"The real value of blockchain isn't the scarcity or rarity, or the store of value as it were. It always boils back down to the safety, the security, the commerce" - Robert Rice
"One thing that a lot of people like to do in virtual worlds is to be somebody else other than who they are" - Robert Rice
Learn More About Robert Rice in the Links Below: