How Phygital Events Will Change the Event Industry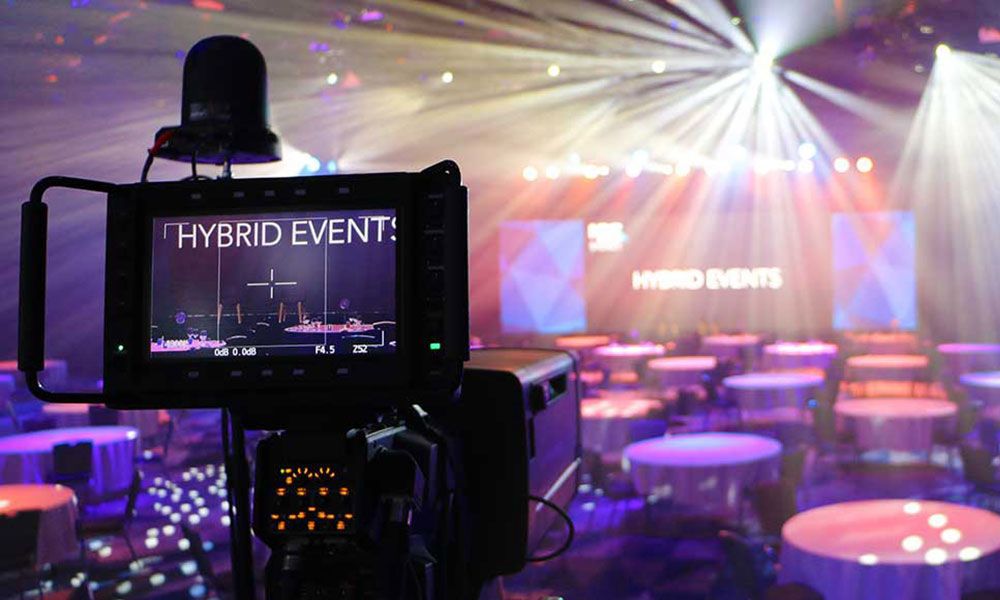 👋 Hi, I am Mark. I am a strategic futurist and innovation keynote speaker. I advise governments and enterprises on emerging technologies such as AI or the metaverse. My subscribers receive
a free weekly newsletter
on cutting-edge technology.
Due to the pandemic, the event industry has transformed significantly. Just a few months before the pandemic, I could not deliver a keynote at an in-person event, and I suggested delivering the keynote virtually instead. The event organiser quickly dismissed this suggestion as a bad idea; consequently, I missed the event. Who would have known that the global events industry would be required to shift gears only a few months later?
Online events have become the norm, and despite the easing of Covid-19, many events still take place online. As a futurist, I now deliver a consistent stream of both in-person as well as virtual keynotes. However, we can expect events to undergo another transformation in the coming years as virtual events appear. With the upcoming metaverse, virtual events are poised to become the dominant format in the event industry. They give attendees, and speakers, greater flexibility regarding time, place, and interactions. As a result, more companies will embrace the metaverse to offer unique experiences that allow people to meet virtually in immersive environments.
The main reason is that more and more companies realise the power of virtual platforms to host their events and conferences. In addition, with the help of virtual platforms, we can reach out to many people without worrying about the location or space limitations that may have been a problem in the past. Of course, during the pandemic, the number of events via Zoom, Teams, or Hopin exploded, but the virtual events I am talking about are far more advanced than a simple Zoom or Teams event.
A 2022 study by LinkedIn showed how virtual corporate conferences have increased since 2020. The report indicates that due to the cost savings and the fact that virtual events are environmentally sustainable, there will be an increased need for virtual event platforms and virtual event planners to make all these virtual events successful.
The immersive internet will bring about a new type of event: the phygital event. These hybrid events have arisen due to the post-pandemic need to connect real-life experiences in physical spaces with the life we live digitally. This includes meeting up with colleagues we haven't seen in a while or feeling like you're in different spaces instead of your living room, all through experiences that immerse you in a digital universe.
Let's see why virtual events are essential today and how they will evolve in the future.
The Benefits of Phygital Events
Last year, 2021, Decentraland organised a four-day event dubbed the Metaverse Festival. Decentraland is a fully decentralised 3D virtual world controlled by a decentralised autonomous organisation (DAO) and where users can build their own unique digital experience and interact with others. The biggest drawcards for the virtual festival were Deadmau5, a Canadian electronic music producer and DJ, and Paris Hilton. The Metaverse Festival was focused on the tech-savvy crypto community, and users could purchase digital merchandise using the in-game's crypto MANA, such as digital wearables for their avatars.
The Metaverse Festival tried to mimic real-world festivals, including digital jumping Port-a-Loos (each offering a unique experience), VIP booths, smoke machines, and areas for players to socialise. We have come a long way if you compare this festival to the online Zoom and Teams events.
The metaverse allows us to create far more scalable and extensible digital environments. As a result, it has the potential to be used for hosting events of practically any size, including major trade fairs or even concerts attracting millions of attendees. The real exciting experiences arrive when the digital and physical worlds converge in hybrid, or phygital, events, combining physical and virtual elements into a single event. This allows attendees to participate from home or the office while still giving them access to the benefits of attending in person at the venue.
Phygital events are the future of business conferences, expos, concerts and other (professional) gatherings. The growing popularity of virtual platforms is due to their ability to offer a higher degree of participation and engagement than ever before. Virtual events are not just about attending meetings or listening to speakers—they're also about connecting with other attendees and creating relationships that last long after the event.
It is known that virtual and hybrid events have elements in common but also some differences. Here are the benefits of each, taking into account the characteristics that identify them:
More Engagement with the Audience
A hybrid event combines the benefits of a virtual event with some elements of a live event. Hybrids allow organisers to engage directly with their audience and interact on a more personal level than they would in an online event. Sharing ideas and engaging in discussions during a hybrid event allows you to create closer relationships with customers while also having an idea of what is most important to them.
Some of the techniques that allow us to engage effectively during virtual and hybrid events are:
Connect with attendees individually in 1:1 breakout sessions, potentially in VR.
Augment the experience using virtual booths, exhibits, immersive environments, etc.
Boost engagement, marketing, and performance development by adding gamification to the event dynamics.
Provide insights from the audience that participates through polls, private chats, surveys, or Q&A sessions and form a sense of unity, teamwork, and healthy competition through group sessions.
Integrate novel technologies such as non-fungible tokens (NFTs) to continue the experience after the event.
Integrate other platforms to make registration, payments, and inter-platform communication easy.
Virtual and hybrid events provide an opportunity for attendees who may not be able to travel due to work or other obligations to still participate fully in all event activities, such as networking opportunities or breakout sessions, and offer a uniquely engaging experience.
More Advanced Production
Hybrid events can be presented in many ways (exhibitions, webinars, conventions, training, ceremonies, concerts, etc.), allowing the audience to participate, for example, by submitting questions and interacting with the host, whether present virtually or in person. It allows for bigger audiences than traditional in-person events while offering a unique experience for all visitors.
Virtual events, however, allow for far more innovation in terms of the stage and higher production quality. Event hosts or producers can appear from a studio, completely customised to suit the event using green screens, offering superior lighting and sound, adding to the overall event experience.
Easily Accessible Analytics and Reports
Virtual and hybrid events offer businesses a great ROI, increasing their event's overall revenue and reach. Sponsors will receive more views, and more attendees will sign up, resulting in more leads for exhibitors.
In addition, virtual and hybrid events provide access to data that tracks attendee behaviour, which can help organisers better understand their customer's interests. It is possible to learn a lot about the target audience by analysing the data collected during events—where they come from, how they identify, but more importantly, how they responded to the various talks, their engagement levels, including when they lost interest, and real-time sharing on social media. All valuable data can improve the next event or even enhance the event while it is happening.
At a virtual or hybrid event, there is an opportunity for analysts to collect far more granular data about attendees than during in-person events.
The Innovations in the Event Industry
The opportunities offered by new technological advances in the virtual space can be truly unique. For instance, holograms are one of the most innovative technologies in physical events and are increasingly being used. Although currently still quite expensive, holographic technologies are quickly improving.
Although holographic technology is not new, it is in recent years that we have experienced it more tangibly in real-life scenarios. Its usage has become more and more common to the general public in different industries ranging from healthcare services to live concerts with world-renowned artists, such as the recent case of Swedish pop group ABBA.
Also, to the surprise of many, holographic technology was used in the political arena last June when the current Ukrainian President Volodymyr Zelensky appeared as a hologram at the Viva Technology conference in Paris, and simultaneously at several other events in Europe, addressing his speech on the opportunity to turn Ukraine into a digital democracy.
In the coming years, holograms attending conferences will become more common. In 2022, WeWork, the provider of flexible workspace, and ARHT Media, a global leader in hologram and digital content technology, announced an expansion of their strategic partnership to integrate ARHT Media's technology into WeWork's international events platform. Following the first phase of the partnership, ARHT Media's technology will be available at 30 WeWork locations worldwide.
The creators of the patented HoloPresence technology aim to provide a service for WeWork members with access to holograms of people who are not present. For example, the solution will project a three-dimensional version of remote participants on a stage or in a boardroom instead of using Zoom and showing them on a screen. Having delivered keynotes as a hologram myself, I can assure you that this is an excellent way to wow your audience.
While holographic experiences are one form of bringing the digital into the physical world, augmented reality is another. In 2022, Coachella created the Coachellaverse, an augmented reality experience with advanced wearable technology. The technology enabled users to travel beyond the physical setting and interact with artists, creators, and fans in surprising ways.
Users could experience the Coachellaverse in the festival app to immerse themselves in 100% AR experiences designed in collaboration with Niantic, a leading American company in AR solutions. People could log into the portal to explore geo-specific maps, discover points of interest around the polo fields, and explore new ways of expressing themselves through fashion, music, and art by blending real-life with digital life in a multi-sensory AR experience.
As the metaverse continues to evolve, we can expect more event organisers to embrace new virtual and augmented experiences and, increasingly, also NFTs.
NFTs and Events
The growing popularity of NFTs presents opportunities for business models based on virtual events and hybrid events. For example, NFTs could be used to create event-based economies and advanced loyalty programs. These could meet various consumer needs, such as access to exclusive experiences.
A critical use case introduced during ETHDenver in 2019 is the Proof of Attendance Protocol - or POAP for short. POAPs were created by Argentinian crypto entrepreneur and founder of Poap.xyz, Patricio Worthalter, to build communities during (virtual) events in the digital era. POAPs are unique NFTs that commemorate and prove that someone attended a physical or virtual event. Over time, people can collect POAPs to document their physical and digital life experiences and activities through cyberspace.
This product enhances event engagement by providing a customised experience for event organisers. POAPs offer a unique new way to attract sponsors to an event by giving users who have a POAP a discount at a specific store. This asset could drive extra traffic to physical stores or websites in ways that standard discount coupons might not be able to.
In late November 2021, Adidas announced it was teaming with POAP to distribute NFTs to build brand loyalty. Rather than commemorating an event, Adidas' POAPs serve as a way to identify its most loyal supporters.
Many online crypto communities also use POAPs. For example, SushiSwap and ShapeShift offer badges to members who attend community meetings, participate in AMAs and vote on governance proposals. Decentraland issues POAPs periodically to commemorate events such as the recent user party hosted by MetaMask in 2021.
With more ways of interacting with digital assets than ever before, this trend could become a more significant part of events.
Are Phygital Events the Future?
Almost half of the marketers surveyed in 2021 had changed their digital and workplace engagement strategies entirely after COVID-19 broke out. This trend has resulted in a great business opportunity for many startups that have decided to venture into the virtual events industry and provide immersive experiences with the highest quality technology.
A recent report from EventX found that almost three-quarters of businesses planned to host hybrid or virtual events in the coming year and cited three elements needed for online experiences to work seamlessly: digital footprint analysis, digital transformation, and flexibility. Whether the purpose is to reach more customers, launch a new product or service, or make internal processes more efficient, digital transformation is essential. The data is needed to identify potential opportunities and the will and commitment to make changes and create a system that can adapt to change.
One of the initiatives aimed at informing about the countless benefits of the metaverse and has led by example with much success in taking place within this digital universe is the MetaFestival.
The MetaFestival was a three-dimensional live event held on June 28, created as an opportunity to experience what it is like to be part of a metaverse through a virtual world called Metapolis. Despite the booming market created by the metaverse, most people have never heard of it or even experienced it. So the organisers and participants of this event decided to turn it into a reality by bringing everything you need to know through a 24-hour event about Web3, NFTs, creative technology, and next-generation marketing together in one place.
The 24-hour event was divided by region: Europe, APAC, and the Americas, with a schedule designed to cover today's most essential topics in the metaverse industry. Topics covered included Web3 marketing, art/pop culture, and spatial web technology. I was honoured to participate alongside well-known leaders and innovators in the industry, and you can watch my talk here.
Final Thoughts
Virtual events have been around for years, but only recently have we realised their potential to replace and augment physical events. They are an integral part of the modern business landscape, and increasingly business leaders are choosing these instead of traditional face-to-face meetings. In addition, virtual events create excellent value for attendees and build lasting relationships between hosts and guests.
The current landscape shows how the future of live events seems to be increasingly virtual. Of course, the cost of travel is one factor, but technology has also played a key role in cutting down the need for physical gatherings of like-minded individuals by offering experiences that are sometimes better than an in-person event.
As the metaverse continues to evolve, we will see more innovations in the event industry, turning phygital events into magical experiences that deliver tremendous value for attendees, speakers, sponsors and organisers. It is an exciting time to be part of this industry!