The Present and Future of Brand Opportunities in the Metaverse with Justin Hochberg – Step into the Metaverse podcast: EP23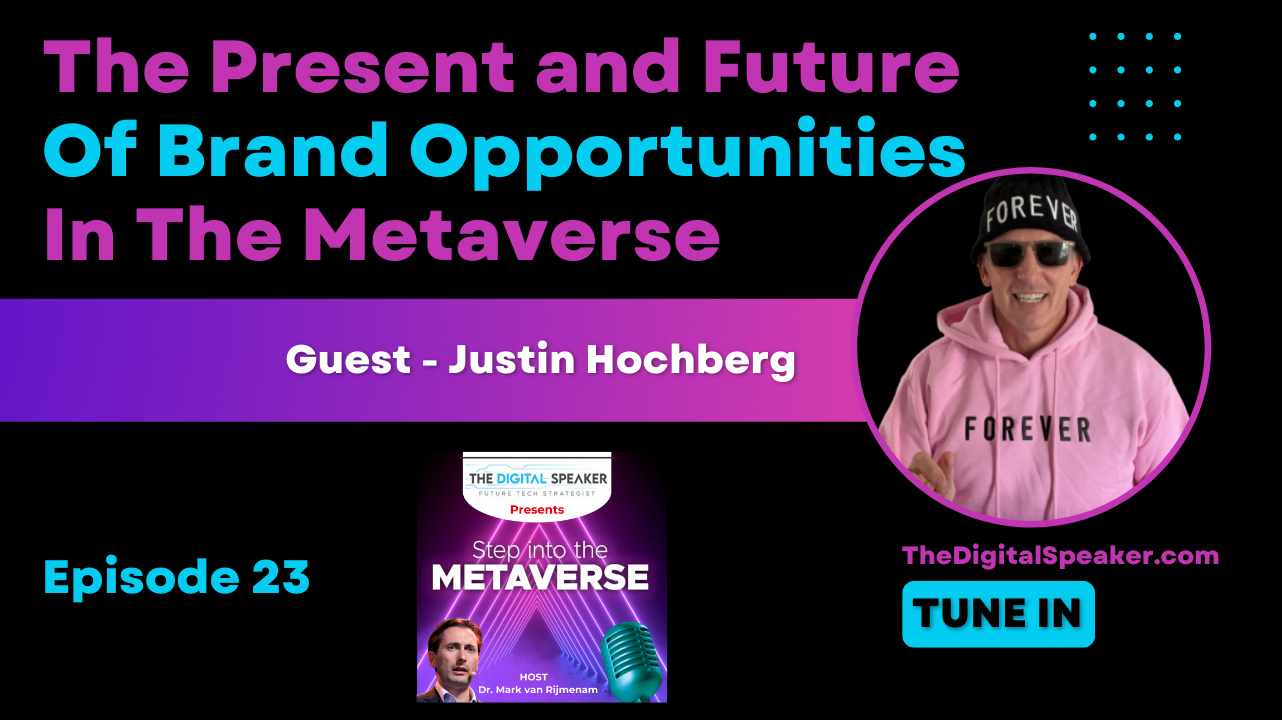 👋 Hi, I am Mark. I am a strategic futurist and innovation keynote speaker. I advise governments and enterprises on emerging technologies such as AI or the metaverse. My subscribers receive
a free weekly newsletter
on cutting-edge technology.
In this episode of the Step into the Metaverse Podcast, I interviewed Justin Hochberg, the Founder and CEO of the Virtual Brand Group (VBG), which strategizes, builds, and monetizes brands in fashion, entertainment, sports, retail and lifestyle across all of web3. Some of their most recognized successes include turning Forever 21 into one of the Metaverse's "top 10 brands for 2022", launching "The Voice" singing competition, which airs in 145 territories, into Decentraland and designing Barbie's first-ever virtual fashion line, which was one this year's most successful launches.
Justin is an innovation, revenue, and partnership-focused senior executive with a multi-national career spanning the USA, the E.U., and Eastern Europe in technology and entertainment. He has a proven track record from Microsoft to Hollywood, creating 70+ multi-million-dollar deals, 40+ TV series, and over $500MM in new revenue.
Join us as we discuss how the metaverse will completely change marketing, why brands need to take a different approach if they want to be successful in the immersive internet, some of the brands that are doing a good job already, and much more. See you on the inside!
Highlights
[01:28] - Running a metaverse creation company that puts brands in the metaverse.
[08:40] - Pushing the boundaries of what the metaverse should be.
[11:32] - Helping brands take the first steps to get into the metaverse.
[16:56] - How user-generated content will ignite the metaverse.
[20:06] - Ensuring a rich and vibrant metaverse economy while hedging it from potential ethical challenges.
Quotes
"Video games make more money than all sports rights and TV and film combined" - Justin Hochberg
"The creator economy is now meeting an open platform and that will transform the metaverse and be a driving factor" - Justin Hochberg
"Anonymity is powerful and if misused very challenging" - Justin Hochberg
"The solution to ensuring a rich and vibrant metaverse economy is in the decentralized nature of the way the metaverse has developed" - Justin Hochberg

Learn More About Justin Hochberg in the Links Below: