Revolutionizing Entertainment Via the Metaverse with Matthew Brewbaker – Step into the Metaverse podcast: EP22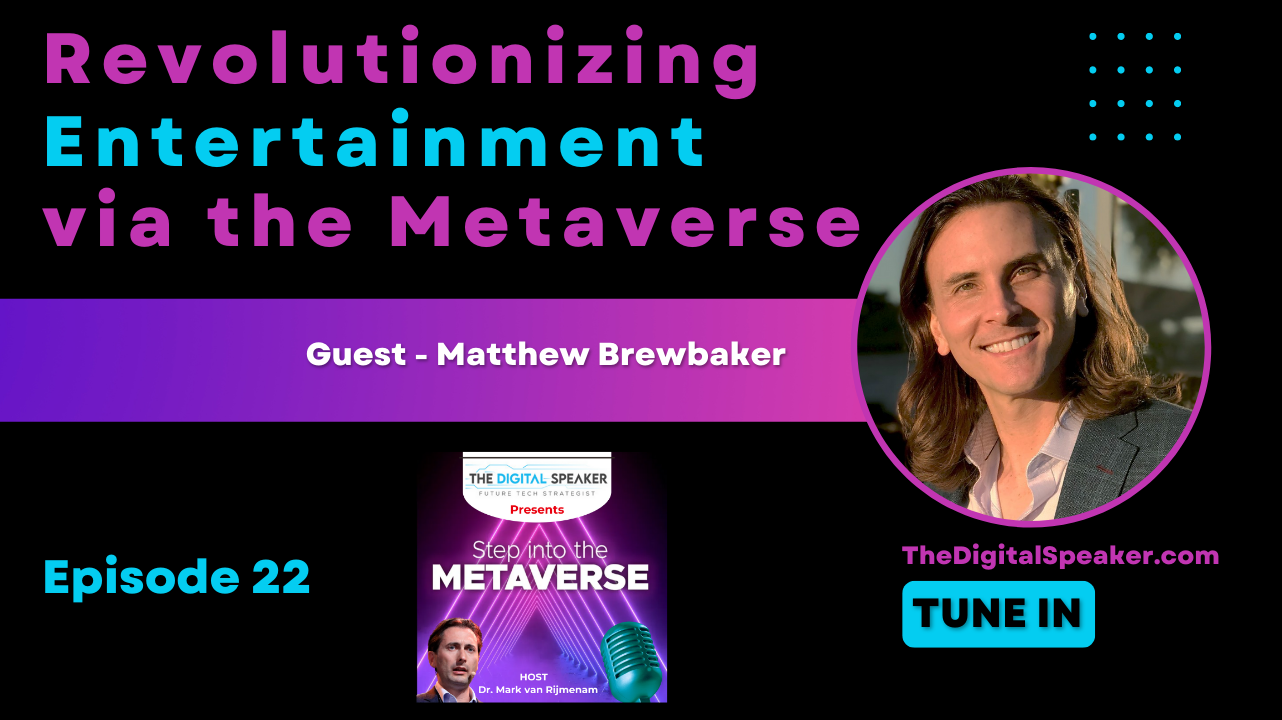 👋 Hi, I am Mark. I am a strategic futurist and innovation keynote speaker. I advise governments and enterprises on emerging technologies such as AI or the metaverse. My subscribers receive
a free weekly newsletter
on cutting-edge technology.
In this episode of the Step into the Metaverse Podcast, I had a chat with Matthew Brewbaker, the Founder and CEO of VEU Inc., a metaverse development company focused on the future of virtual entertainment. Matthew started his career in entertainment development at companies including New Regency, The Donner's Company and Ithaka. He worked in production on Hollywood movies like Hancock and First Daughter. He previously worked first-hand at the intersection of technology and art, with Academy Award-winning director Robert Zemeckis and his company, Imagemovers on 3D CGI films such as Beowulf and Disney's A Christmas Carol.
With over 15 years of experience, Matthew is most recently known for his role as chief producer on Followed, which toured the festival circuit winning, before opening as the #1 new release in drive-ins and theatres in Summer 2020. Matthew will share his great wisdom on how the metaverse will change entertainment as we know it and how brands should embrace this new paradigm if they want to remain relevant in the coming decade. He also talked about the role of user-generated content and how we can have a rich and vibrant economy. Tune in, enjoy, and don't forget to share.
Highlights
[01:12] - From aiming at using video games as an application to moving into the metaverse space.
[04:05] - Fulfilling the metaverse dream with the help of identity and repetition.
[08:17] - Tips for brands that want to become successful in iCommerce.
[13:23] - The idea of the public metaverse square.
[15:31] - How user-generated content and creativity will define the metaverse.
[18:13] - Using NFTs to create a rich and vibrant metaverse economy.
[19:10] - Dangers we might have to grapple with in the metaverse.
[21:37] - The metaverse as the gamification of the internet.
Quotes
"The metaverse is a tapestry of dream that we are all sort of weaving" - Matthew Brewbaker
"The purpose of identity is to separate you from the crowd. It's not just your own way of seeing yourself" - Matthew Brewbaker
"NFTs don't just have to be digital things. They can also be digital representations of things" - Matthew Brewbaker
"Communities are going to define the metaverse and the metaverse are in turn going to define the communities" - Matthew Brewbaker
"The whole point of cryptocurrency and a DAO is to create trust in a system by which an economy can exist" - Matthew Brewbaker
Learn More About Matthew Brewbaker in the Links Below:
If you are interested in learning more about the metaverse, you can order my book Step into the Metaverse here.