Solutions to Drive Safety and Privacy in the Metaverse with Tiffany Xingyu Wang - Step into the Metaverse podcast: EP33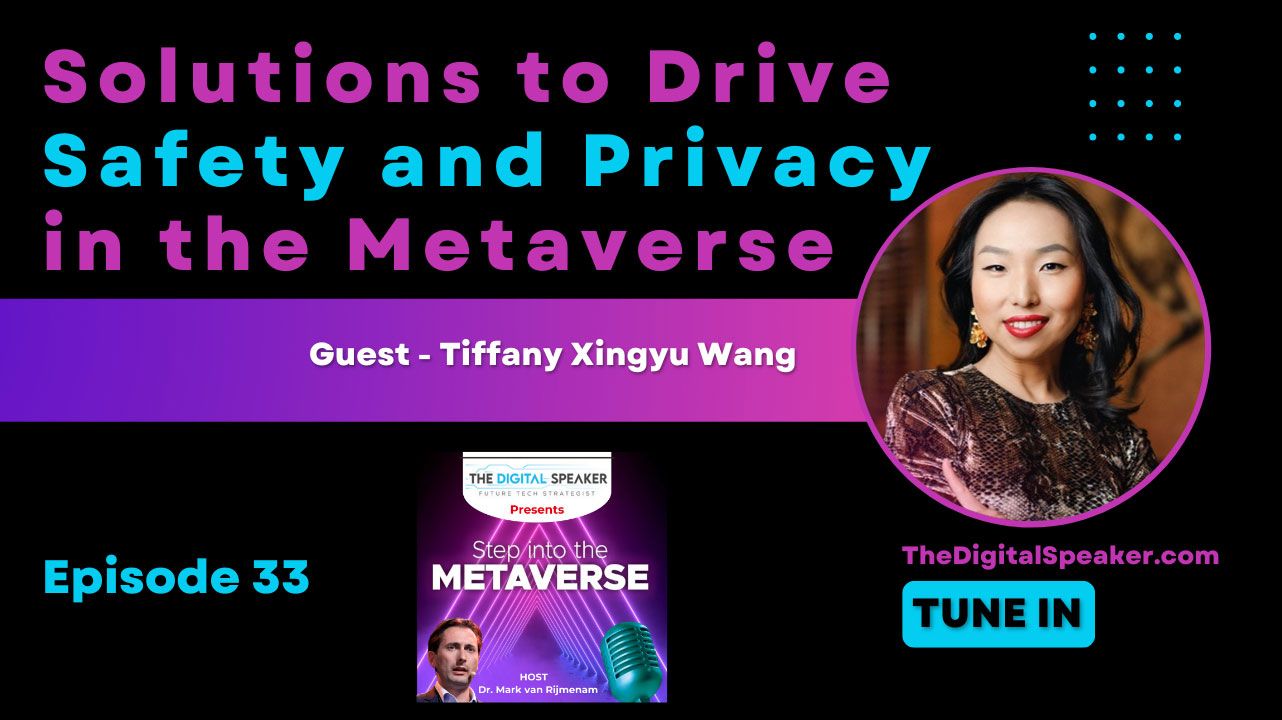 👋 Hi, I am Mark. I am a strategic futurist and innovation keynote speaker. I advise governments and enterprises on emerging technologies such as AI or the metaverse. My subscribers receive
a free weekly newsletter
on cutting-edge technology.
In this episode of the Step into the Metaverse Podcast, I had a chat with Tiffany Xingyu Wang, the Chief Marketing Officer at OpenWeb, a premium community engagement platform that serves 1000+ publishers and advertisers with 100M+ monthly active users. She was named a Forbes Most Entrepreneurial CMO, and the Most Innovative CMO by the CMO Club. She was previously the Chief Strategy and Marketing Officer at Spectrum Labs, a contextual AI platform set to build a safer internet and keep over 1 billion users safe online.
Tiffany also co-founded Oasis Consortium, a think tank to advance digital sustainability through ethical standards and technologies for Web3.0, which launched the first comprehensive User Safety Standards for Web3. She is the host of Brand Safety Exchange, a destination of thought leadership for Trust and Safety leaders. She has been published and featured for her work in digital trust and safety on TIME, Harvard Business Review, MIT Technology Review, Forbes, VentureBeat, Digiday, Protocol, etc.
Tiffany shared her expertise regarding sustainability in the metaverse, the dangers of the metaverse and the need for ethical standards in the immersive internet. We also discussed the Oasis Consortium that she founded and its important role in creating an open metaverse. Stay tuned for more, and enjoy!
Highlights
[01:25] - Trust and safety for the metaverse and why a governance layer is needed.
[08:19] - The evolution of technology for good.
[10:07] - What the Oasis Consortium is aiming to achieve and how she gathered talent for it.
[15:27] - The next step of the Oasis Consortium.
[19:48] - Why ensuring safety and privacy is critical for the metaverse.
[22:44] - Creating a generation of innovators who want to develop ethical technologies.
[24:04] - Amplifying what we love about the world in the metaverse.
Quotes
"Technology brings us this fascinating world we live in today, but because safety was an afterthought in Web2, we ended up where we are today" - Tiffany Xingyu Wang
"You cannot talk about safety without privacy because the way for you to keep people safe is actually having the data to eliminate toxic behaviors" - Tiffany Xingyu Wang
Learn More About Tiffany Xingyu Wang in the Links Below:
If you are interested in learning more about the metaverse, you can order my book Step into the Metaverse here.