How to Build a Rich and Vibrant Metaverse Economy with Jon Radoff - Step into the Metaverse Podcast: EP02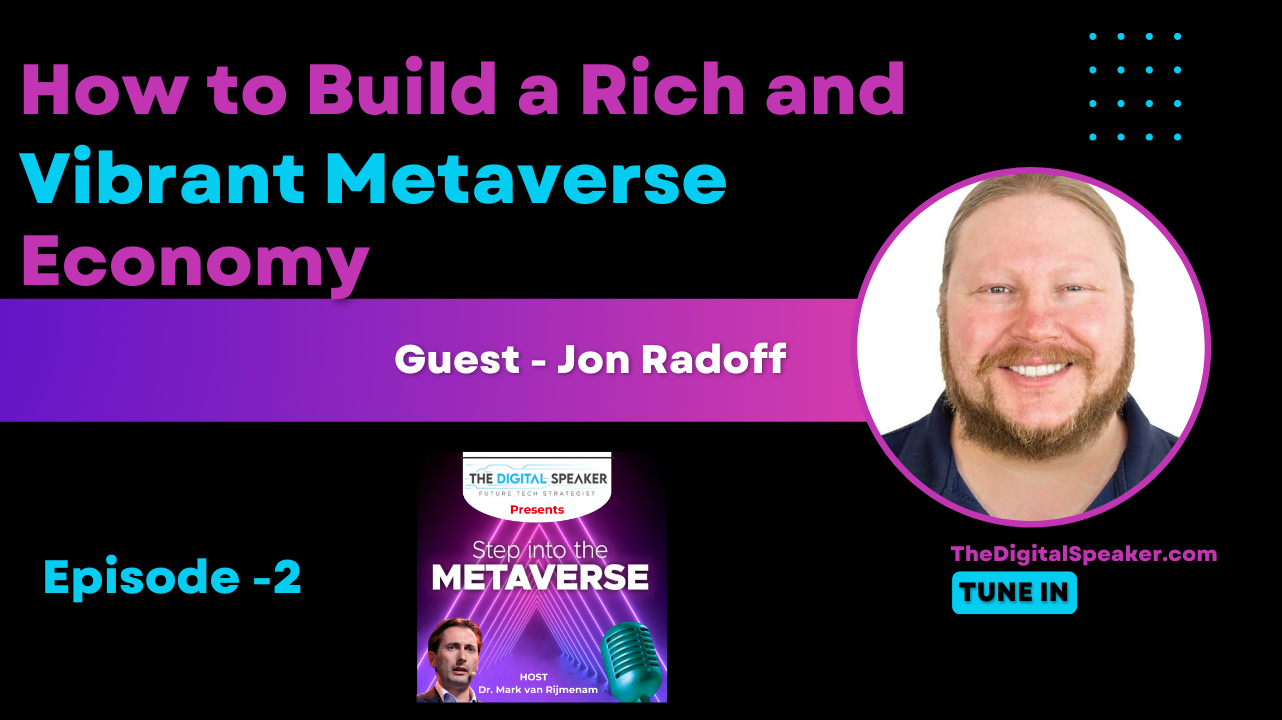 👋 Hi, I am Mark. I am a strategic futurist and innovation keynote speaker. I advise governments and enterprises on emerging technologies such as AI or the metaverse. My subscribers receive
a free weekly newsletter
on cutting-edge technology.
In the second episode of the Step into the Metaverse Podcast, I had a chat with Jon Radoff, the Co-Founder and CEO of Beamable, the creator-centric platform for building live games. An internationally recognized entrepreneur and technology visionary, Mr Radoff has grown businesses in the fields of computer gaming, social networking, advertising and enterprise technology.
Before founding Beamable, Mr Radoff built one of the first commercial games on the Internet, took a web content management company public, grew a game advertising network, and launched mobile games played by millions of people, including Game of Thrones Ascent and Star Trek Timelines. His writing, captured in his blog Building the Metaverse, envisions a future driven by the culture change as people go digital. ReadWrite.com named Mr Radoff as one of the top 30 most influential people in the Metaverse.
We had a great conversation about what the Metaverse means for gaming, the seven layers of the Metaverse, how the Metaverse will change the future of work, and which things we have to do differently when developing Web 3.0 compared to Web 2.0. Stay tuned to this incredibly valuable 27-minute episode for that and more.
Highlights
[01:12] - Growing up in the Metaverse and becoming a Web 3.0 gaming guru.
[05:36] - Dematerializing Life: Will we all be living in the Metaverse in future?
[08:20] - Understanding the seven layers of the Metaverse.
[11:20] - The role that games will play in the Metaverse.
[13:07] - How the Metaverse will change the future of work.
[14:47] - SSI in the Metaverse and how critically important it is.
[19:11] - Digital twins, enterprise Metaverse, and simulations in general.
[20:37] - Ensuring a rich and vibrant Metaverse economy.
[23:53] - Preventative measures that can help curb dangers in the Metaverse.
Quotes
"Everything, where you can feasibly de-materialize or digitize an experience, can move into the metaverse" - Jon Radoff
"Blockchain is about programmatic value exchange which is completely revolutionary" - Jon Radoff
"Digital twins are part of simulation" - Jon Radoff
"To do accurate simulations that are based on the real world, you want to be able to bring information about the current state of the real world into your simulation so that you can model around it" - Jon Radoff
"Digital twins are really about largely taking information from the real world and creating a bridge between it and the metaverse" - Jon Radoff
Learn More About Jon in the Links Below:
If you are interested in learning more about the metaverse, you can order my book Step into the Metaverse here.