The Supply Chain of Tomorrow Will Be Flexible, Efficient and Resilient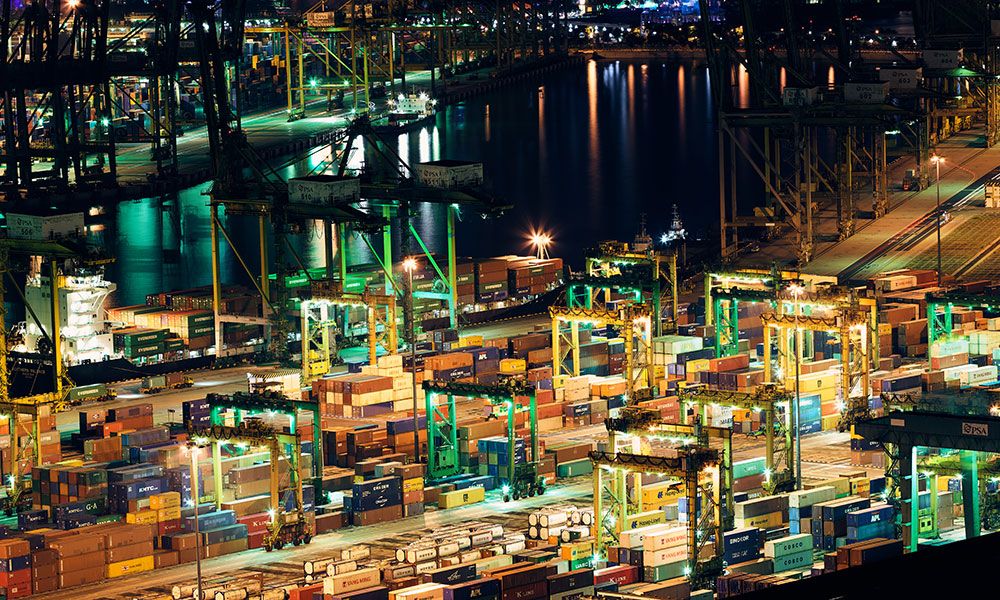 👋 Hi, I am Mark. I am a strategic futurist and innovation keynote speaker. I advise governments and enterprises on emerging technologies such as AI or the metaverse. My subscribers receive
a free weekly newsletter
on cutting-edge technology.
In today's complex world, it is short of a miracle how we have been able to create global supply chains that move products across the globe at breakneck speed. However, the current pandemic has also shown how vulnerable our global supply chains are.
Those companies who had not updated their supply chain to the digital era before the start of this pandemic faced a lot more difficulties in adjusting to the new normal than those companies with a digitally optimised supply chain. Digital has become a prerequisite for supply chains.
Last week, I spoke with Pieter Van den Broecke – Managing Director The Netherlands, Belgium and Germany for Manhattan Associates – in the run-up to Manhattan Exchange Connect, to discuss some of his thoughts about the supply chain of tomorrow and how it will look fundamentally different from those many organisations are still running today.
The (Slow) Speed of Information
Currently, many physical supply chains are moving very slowly, often a lot slower than goods can travel physically through the supply chain. The reason being is not that a truck or train is driving slowly, but it is because of information flowing slower than physical goods. Many processes are still done on papers and it is a common joke that when you want to send a bouquet of flowers, you need a stack of papers as high as the flowers, which significantly slows down the process.
Therefore, in the supply chain of tomorrow, the main differentiating factor will be data, flowing at the speed of light. The more processes within a supply chain that are datafied, the more efficient and effective it will become.
This became painfully clear at the start of the pandemic. With many retail stores closed, or consumers not wanting to go to the stores, and consumers moving en mass to online, supply chains had to change their operations quickly.
After all, how do you bring the product to the consumer if your traditional sales channel no longer functions?  Plenty of organisations had inventory locked in a warehouse in a region or country that could not easily be re-allocated to online shipments. Local distribution centres had to take over from a network of stores, but where a good overview of inventory across distribution centres and stores was lacking, delivery times increased, and sales were lost.
Bringing Inventory Management to the 21st Century
Inventory management is a critical element, the lifeblood, of the supply chain. Within the supply chain of tomorrow, inventory management has gone digital. Using intelligent algorithms, product companies can easily switch the fulfilment location, so that you actually have access to any inventory anywhere in your network to meet any demand for any consumer. And you can do that at any given moment in time.
That's exactly where Manhattan pops into the picture because with their Intelligent Order Management system organisations can connect supply with demand from any channel and find the best most efficient and cost-effective match for that. Companies still running analogue supply chains will never be able to win the race with digital supply chains, as in today's world of hyper-consumerism, speed of delivery is still currently a key factor in landing a sale.
Supply chains can be made less vulnerable by building a flexible information layer surrounding them. Of course, a pandemic is a once-in-a-lifetime event, but it could also be that your forecast was wrong for other reasons. The level of damages that this would cause is dependent on how quickly you can change your allocations.
The Paperless Supply Chain
Unfortunately, many organisations still have to go through some kind of a bureaucratic, internal administrative process to reposition and re-allocate products to other regions. The supply chain of the future should be able to manage inventory in a way that enables it to flexibly (re)deploy inventory to any channel, for any consumer from any location in your network – obviously, this can only happen if the supply chain effectively goes digital, becoming paperless in the process.
Naturally, within a paperless supply chain, the cloud plays an important role, but in the coming years, we will also see other areas of technology such as the Internet of Things and 5G networks becoming increasingly important. Of course, within any such digital environments, the quality of your data is crucial. Without having high-quality data, it becomes very difficult to optimise your supply chain.
It is clear that technology has become a conditio sine qua non (essential action, condition, or ingredient) for supply chains. Consumers are pushing organisations to become more digital, more agile and provide better, faster services, which can only be achieved when organisations fully embrace technology. Just like companies or today's consumers, supply chains need to not just do digital, but rather be digital.
This story is part of a campaign around Manhattan Exchange Connect, taking place on October 6, 2020.
Image: JumpStory