Turning the Metaverse into a Reality with Chris Matthieu - Step into the Metaverse Podcast: EP08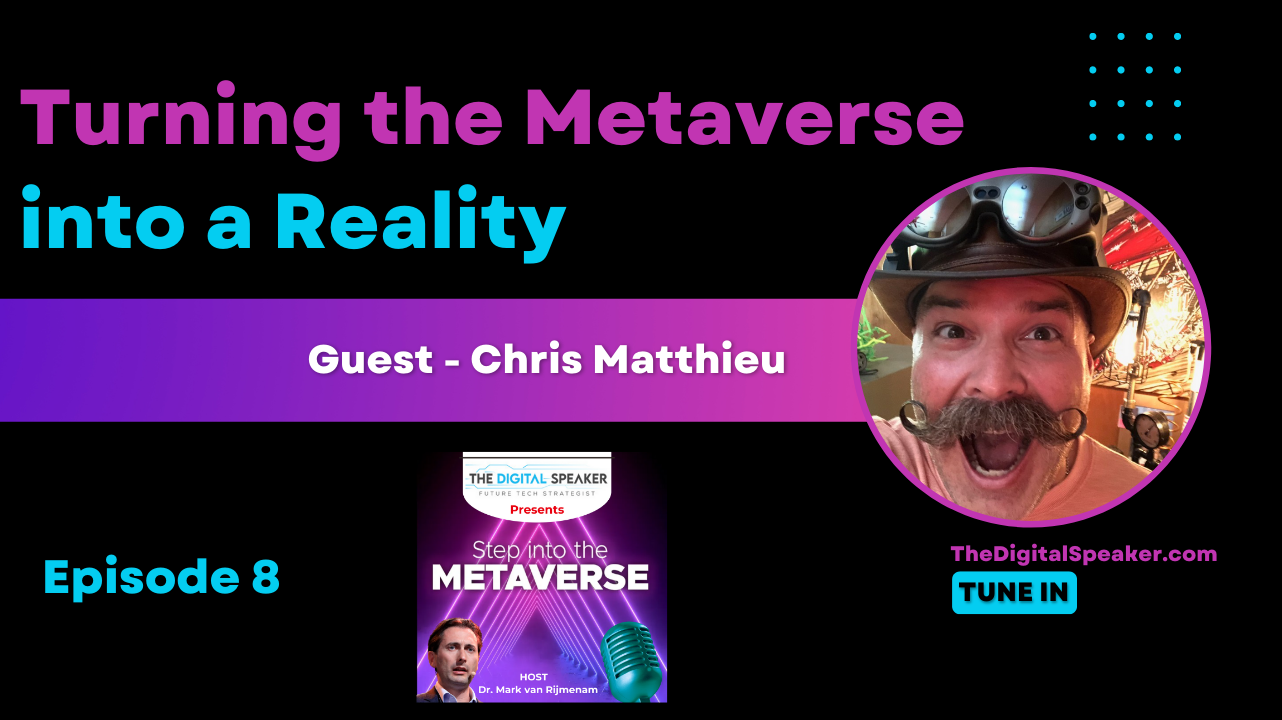 👋 Hi, I am Mark. I am a strategic futurist and innovation keynote speaker. I advise governments and enterprises on emerging technologies such as AI or the metaverse. My subscribers receive
a free weekly newsletter
on cutting-edge technology.
In this episode of the Step into the Metaverse Podcast, I interviewed Chris Matthieu, the Founder and CEO of XRPANET, a planet-scale digital twin platform with XR Cloud services for the outdoors that is lined up to become the world's first XR Spatial Web.
Chris is a serial entrepreneur with five emerging tech startup exits to date, and he currently focuses on decentralization and metaverse technologies and strategies. He is an entrepreneur in residence for Intel and is a former senior director for Magic Leap.
Join us as we discuss a wide range of metaverse topics ranging from the future of the metaverse, what we can expect from VR and AR in the years ahead, the role of communities in the metaverse, the business models of the metaverse and the role of digital twins. Enjoy the conversation!
Highlights
[01:07] - Building and exiting 5 emerging tech companies and how he's building the world's first XR Spatial Web.
[04:54] - Blending the real world and AR while ensuring interoperability so we can have an open metaverse.
[09:23] - How people will find various metaverse spaces that will meet their interests.
[12:25] - The important role communities will play in the metaverse.
[14:23] - What to expect in the coming decades in XR and AR.
[18:22] - Innovative business models that we will see in the metaverse.
[22:16] - Anticipating the emergence of digital twins as a big component of the enterprise metaverse.
[28:44] - What the metaverse will look like at the end of the decade.
Quotes
"The metaverse is simply put, the internet transforming from 2D websites to 3D web spaces" - Chris Matthieu
"There is a freedom to being able to communicate with people on your terms in your own kind of virtual worlds" - Chris Matthieu
"As we're building all these VR virtual worlds, that technology will soon evolve into digital twin virtual worlds of VR that then will converge with AR" - Chris Matthieu
"Like we do today, when you go from website to website, you should be able to teleport verse to verse with a link" - Chris Matthieu
"We will still have meetings inside of the metaverse whether they're meetings with our family and friends, or meetings with our colleagues where we actually have to share a pie chart instead of a photo of our dog" - Chris Matthieu
Learn More About Chris Matthieu in the Links Below:
If you are interested in learning more about the metaverse, you can order my book Step into the Metaverse here.