Creating Real Value in a Virtual world with Alec Lazarescu - Step into the Metaverse podcast: EP27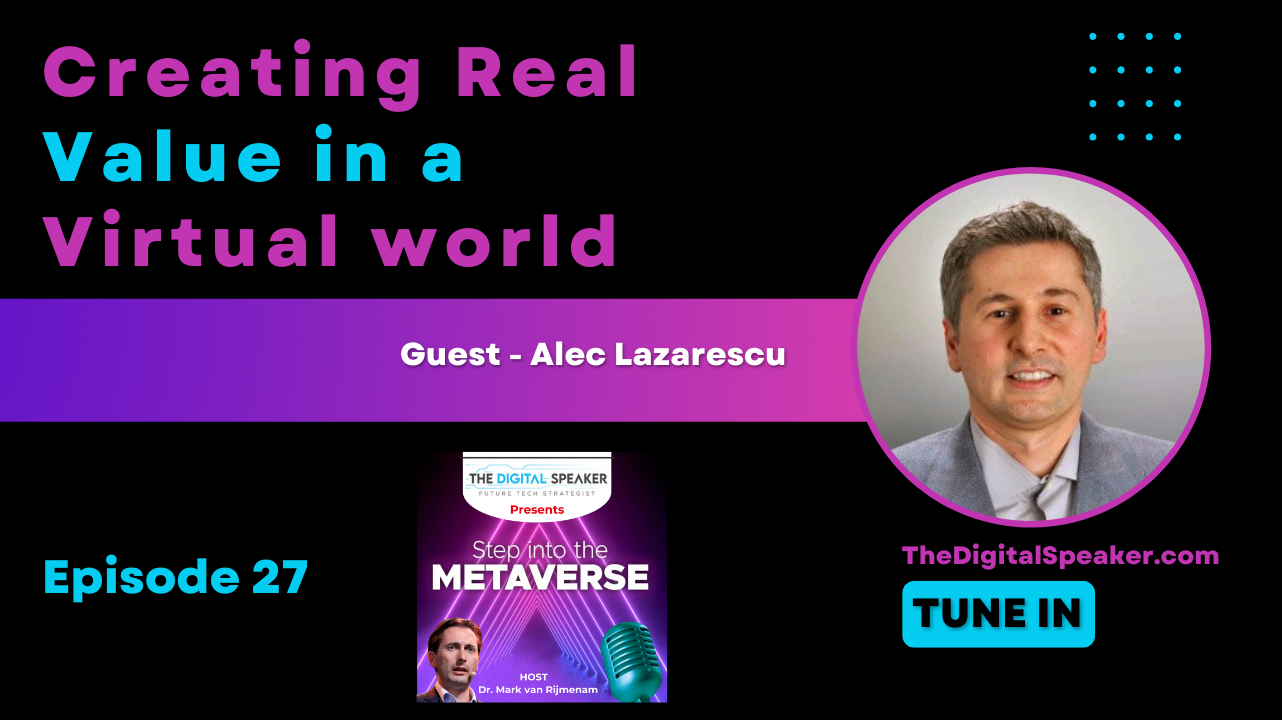 👋 Hi, I am Mark. I am a strategic futurist and innovation keynote speaker. I advise governments and enterprises on emerging technologies such as AI or the metaverse. My subscribers receive
a free weekly newsletter
on cutting-edge technology.
In this episode of the Step into the Metaverse podcast, I had a chat with Alec Lazarescu, the Vice President of Software Engineering at Savvas Learning Company. He also founded VerseTech Metaverse, an educational organization committed to growing conversations and thought leadership on applying emerging technologies, including AI, XR, VR, and AR, as well as blockchain, to the evolving concept of the metaverse. In addition, he runs the largest AI, chatbot, and voice community in New York City.
Alec has expertise in defining and executing the technical strategy and architecture for innovative solutions leveraging the latest in NLP research, voice, machine learning frameworks, and distributed cloud infrastructure best practices. A hands-on leader focused on working alongside C-level executives and founders from enterprise companies, SMBs, and startups to bring products from concept to market while building and empowering high-performing engineering teams.
Tune in to our conversation as we discuss the role of blockchain in the metaverse, the danger of the metaverse, and the role of digital fashion in the immersive internet. Enjoy!
Highlights
[01:14] - Working at the convergence of blockchain, AI, XR, VR, and AR.
[02:42] - Facilitating identity and reputation for the immersive internet.
[04:52] - Metaverse success advice for brands.
[06:11] - The power of the enterprise metaverse and how governments can use it.
[08:36] - Digital real estate and the artificial scarcity being created.
[09:40] - Why user-generated content and creativity are important for the metaverse.
[11:47] - Digital fashion's role in making the metaverse a reality.
[13:11] - How to create a rich and vibrant metaverse economy.
[14:53] - Ethical challenges we might have to grapple with in the metaverse.
[17:08] - Blockchain's role over and above ensuring proof of ownership.
[19:24] - An overview of the future of the metaverse.
Quotes
"Pseudonymous identities are important and can give us what people are looking for in terms of having reputed experiences, building trust and reputation" - Alec Lazarescu
"Not everything needs to be some curated experience" - Alec Lazarescu
"If we want to be fully decentralized, the code has to be running on the blockchain and not just the trivial smart contract code we have today" - Alec Lazarescu
Learn More About Alec Lazarescu in the Links Below: