Democracy in Digital Fashion with Michaela Larosse – Step into the Metaverse podcast: EP18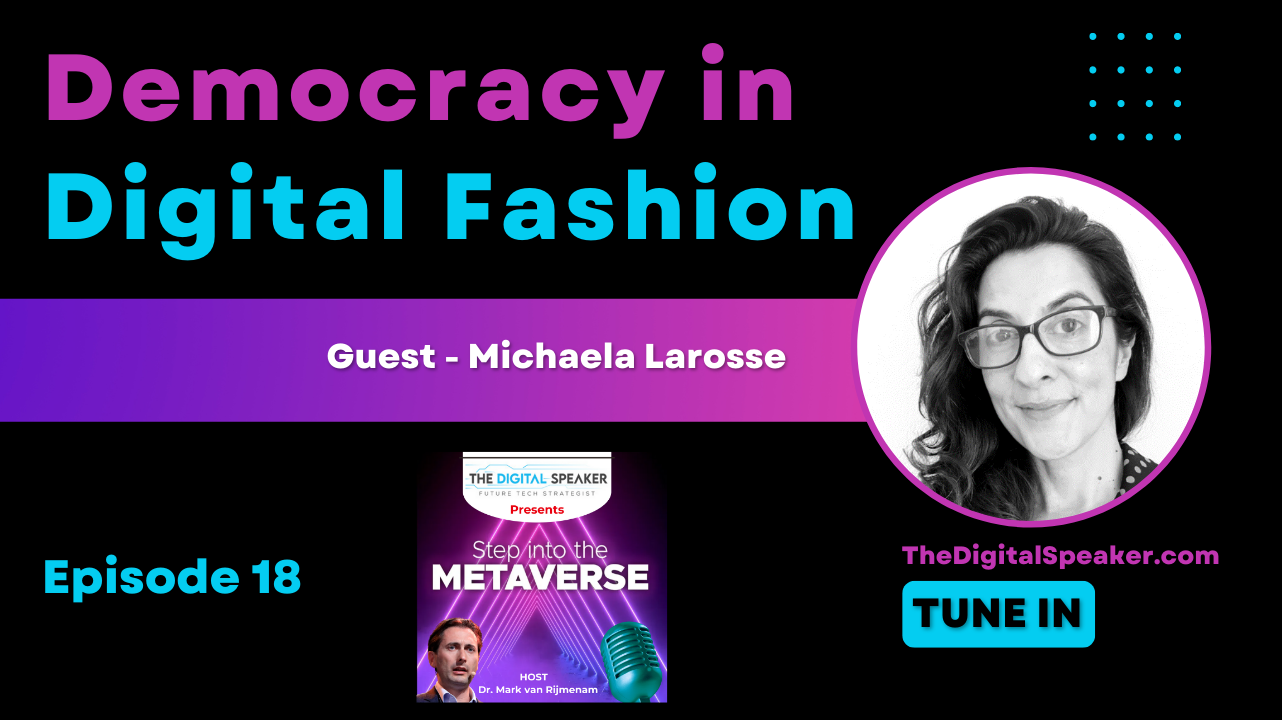 👋 Hi, I am Mark. I am a strategic futurist and innovation keynote speaker. I advise governments and enterprises on emerging technologies such as AI or the metaverse. My subscribers receive
a free weekly newsletter
on cutting-edge technology.
In this episode of the Step into the Metaverse Podcast, I interviewed Michaela Larosse, a founding member of The Fabricant Team and the Head of Content and Strategy. The Fabricant is a digital fashion house creating unique fashion items for the metaverse. As a conceptual writer for global brands and a business journalist specialising in media trends, Michaela is the creator of The Fabricant's brand narrative and philosophy.
Her writing is influential across the creative industries. It gives insight into The Fabricant's work splicing the worlds of fashion, tech, gaming and blockchain, where it wastes nothing but data and exploits nothing but imagination. Michaela and I will dive into digital fashion, its role in the metaverse, and how The Fabricant is embracing the future in a unique way. Tune in and enjoy!
Highlights
[01:08] - Contributing to building the story of digital fashion.
[04:36] - A universe of persistent virtual spaces in which we will have a digital layer of our lives.
[07:34] - Conveying the meaning of digital garments.
[10:22] - Some key characteristics of digital fashion.
[16:54] - Why brands should leverage the merging of the physical and digital.
[19:27] - Possibilities in the mass production of fashion items in the metaverse.
[20:34] - Avatars that will have the most prospects and what the future of digital fashion will look like.
Quotes
"All brands are going to end up in the metaverse in some way. That's a reality" - Michaela Larosse
"The immersive internet is where things are going" - Michaela Larosse
"There's lots of really exciting creative possibilities that allow you to communicate who you are in the metaverse, which is why digital garments as a digital asset are very much leading this space" - Michaela Larosse
"In the digital space, it's the users that say what the value of a brand is" - Michaela Larosse
Learn More About Michaela Larosse in the Links Below:
If you are interested in learning more about the metaverse, you can order my book Step into the Metaverse here.