Seamless Communal Events in the Metaverse with Doug Jacobson - Step into the Metaverse podcast: EP17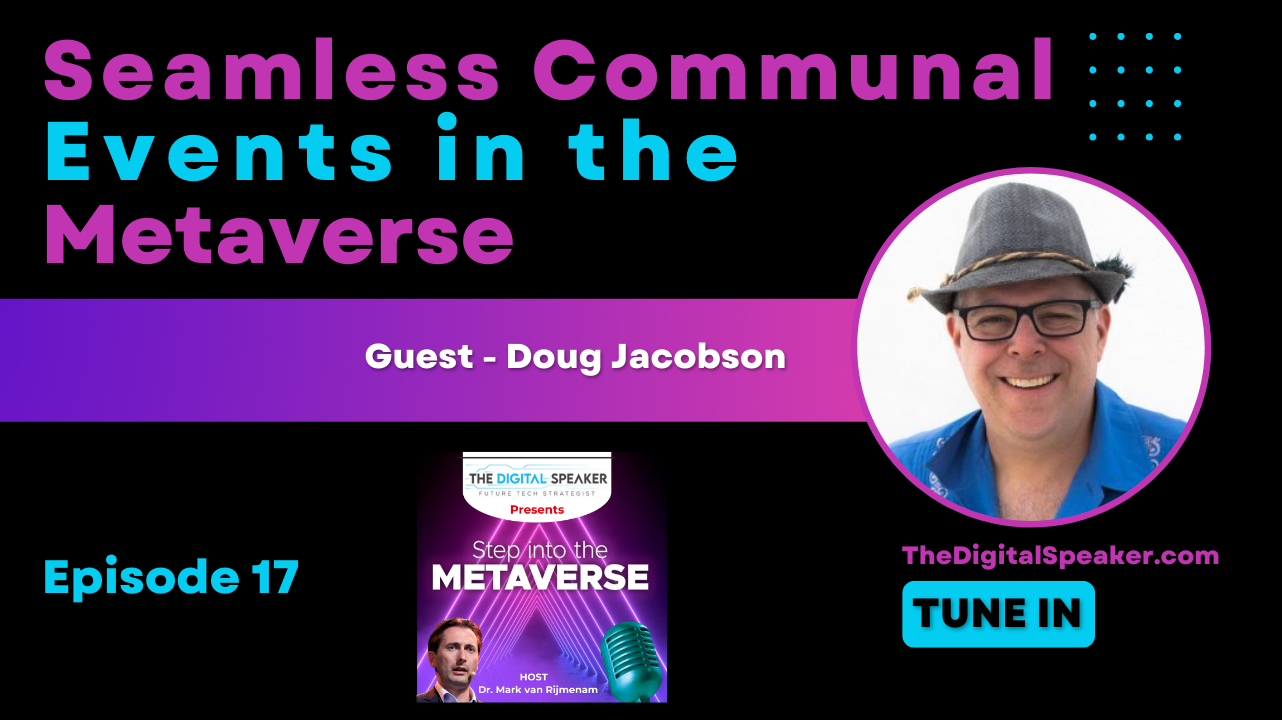 👋 Hi, I am Mark. I am a strategic futurist and innovation keynote speaker. I advise governments and enterprises on emerging technologies such as AI or the metaverse. My subscribers receive
a free weekly newsletter
on cutting-edge technology.
In this episode of the Step into the Metaverse Podcast, I interviewed Doug Jacobson, the Co-founder of Big Rock Creative, an XR company producing large-scale events in VR. Big Rock's first large project, BRCvr, created a fully immersive Burning Man festival in social VR starting in 2020, which generated much positive PR, including an article in Wired Magazine. He has since worked on projects ranging from directing an XR music video featuring Pitbull to throwing an event-packed 3-day New Year's Eve event to facilitating a Hollywood red carpet premiere in VR.
Doug's background is in the film industry; he graduated from USC film school in the 90s with honours. Throughout his career, Doug has written, directed, produced, and edited several festival award-winning narratives and documentaries. His most notorious documentary features the Burning Man festival, "Journey to the Flames, " which has been screened nationally and internationally. His last documentary project was co-edited by the award-winning doc "Selling Lies". He's also had a long career as an award-winning editor in TV and film.
Doug is also one of the founders of the "Black Rock Yearbook", one of the most significant and longest-running photography projects in Burning Man history. Every year, he produces the Yearbook – a photo book filled with thousands of individual Black Rock City Participants, group camp photos and art. A lover of technology and new ways of storytelling, Doug has been spending time in VR – shooting 3D video, building worlds, and guiding new users through Alternative realities in digital space.
He joined me to talk about Burning Man and later showed me around the Virtual Plier. We discussed the future of massive interactive live events, digital real estate in the metaverse, and its ethical challenges. Enjoy the conversation!
Highlights
[01:46] - Transitioning into the metaverse space from his background in film.
[06:34] - Why the Burning Man event is like a metaverse.
[08:12] - An interoperable, interconnected universe of digital worlds.
[08:23] - Heavily investing tech, labor, and creativity into the next big virtual Burning Man.
[14:02] - Things to note for anyone who is building a metaverse world.
[15:45] - The future of organizing and implementing virtual events.
[18:08] - How virtual reality will change the entertainment industry in the next 5 to 10 years.
[23:09] - Ensuring interoperability between metaverses through NFTs.
[30:23] - Ethical challenges and dangers that could potentially mar the metaverse.
[39:01] - Having a life in both the real world and the metaverse.
Quotes
"The metaverse is an interoperable, interconnected universe of digital worlds" - Doug Jacobson
"A lot of people think that the best graphic quality equals the best platform. It doesn't matter. It's about the experience. It's about the connection, not the resolution of the graphics" - Doug Jacobson
"The ten principles of Burning Man actually are a nice philosophy to run a metaverse platform" - Doug Jacobson
"The event of Burning Man is like a metaverse" - Doug Jacobson
"I think that there is an opportunity to create this immersive theatre, virtual reality cinema" - Doug Jacobson
"NFTs could be the key for interoperability between metaverses" - Doug Jacobson
Learn More About Doug Jacobson in the Links Below:
If you are interested in learning more about the metaverse, you can order my book Step into the Metaverse here.