The Australian Open Gives Fans Deeper Insights With Data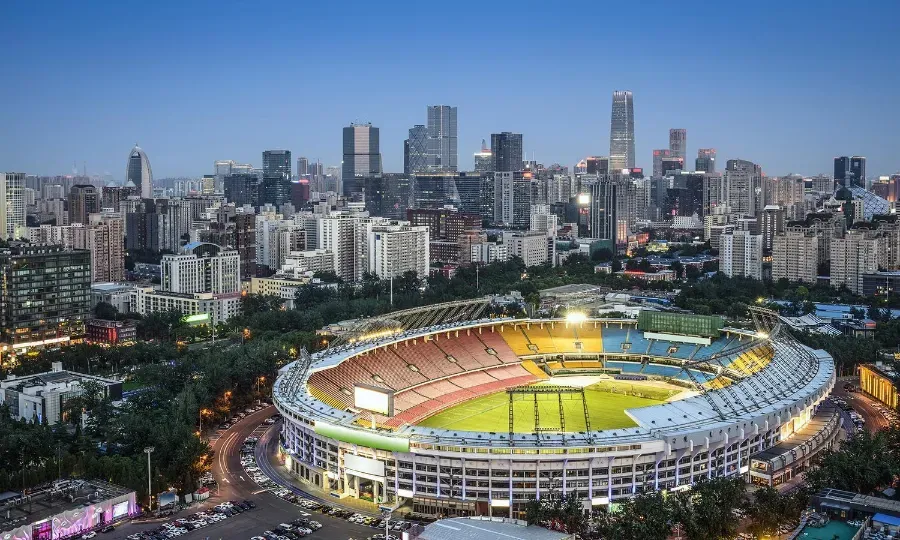 👋 Hi, I am Mark. I am a strategic futurist and innovation keynote speaker. I advise governments and enterprises on emerging technologies such as AI or the metaverse. My subscribers receive
a free weekly newsletter
on cutting-edge technology.
For 20 years now, IBM is the main technology partner for the Australian Open. In just two decades, the Australian Open went from a 'watch-only' tennis tournament to a full-interactive, data-rich tennis tournament that caters for the needs of millions of fans from around the world who want to know all about their favourite tennis player.

During this year's Australian Open, IBM has implemented new technologies to showcase their big data capabilities and these capabilities are definitely amazing. Big data has arrived in tennis and is here to stay for the long-term. During the tournament, data is captured, analysed and shared in real-time on multiple platforms and multiple devices.
Game Statistics
Using IBM's predictive analysis technology, fans and media can follow in real-time all statistics related to all games played at a certain moment. They developed the IBM SlamTracker<sup>TM</sup>, a real-time statistics and visualization platform. The tool combines real-time data delivered from the tennis court with 39 million data points collected in the past five years at different grand slam championships.

The umpire uses a touch-screen handheld device called 'Chump' to enter points, faults and other important match data. This data is cable-wired to the event server room from which it is sent to three US-based data centres, located in Raleigh, Boulder and St. Louis. Here the data is replicated three times to ensure data reliability and security.

IBM's SlamTracker then delivers in-depth analysis of a player's historical performance and identifies three 'Keys to the Match' that a player should achieve in order to improve their chance of winning. Combined with the real-time data this give fans a deeper insight in the best strategy for success for each player.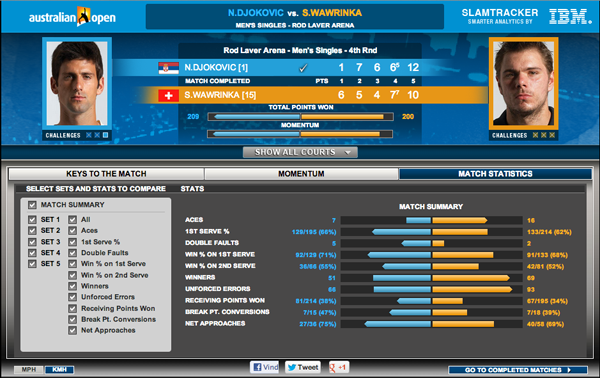 Sentiment Analysis
IBM's real-time data analytics software determines the sentiment among the public present and anywhere else in the world. It is a combination of sophisticated analytics software and natural language processing to analyse Twitter, Facebook, YouTube, news websites and blogs. All this information is used to create a Social Leader Board that determines the popularity of a player. The Social Leader Board shows the amount of mentions a player has received as well as the sentiment. This tool measures, understands and shows fans' views on players throughout the event.
The Media Room
All data that is collected is also transported by IPTV to the media room where 300 touchscreens view all available statistics around all matches. Journalists can view match statistics, review videos from all aspects that are important and use this to create a compelling story about the Australian Open.
Preventive Scaling
All data that is collected via social media is also used to predict spikes in activity across the web. The predictive cloud provisioning technology is an intelligent cloud system that combines social media, awareness with the schedule and historical data in order to predict the amount of traffic towards the website of the Australian Open. If the system recognizes a pattern, than the system automatically scales up capacity to serve all new visitors to the website. Last year the website welcome around 49 page views during the Australian Open and expectations are that this will rise significantly this year. In order to store all data, the Australian Open website is supported by an IBM Storewize v7000 200 TB server.

What the below video for some more information.
Big Data definitely changed the game of the Australian Open this year and we will most probably see these kinds of features appear at the different grand slam championships around the world as well. It brings a complete new layer of information to the fans and journalists to better understand and experience the Australian Open. A welcome experience made possible with smart use of big data.