Blockchain: Transforming Your Business and Our World – Now Available!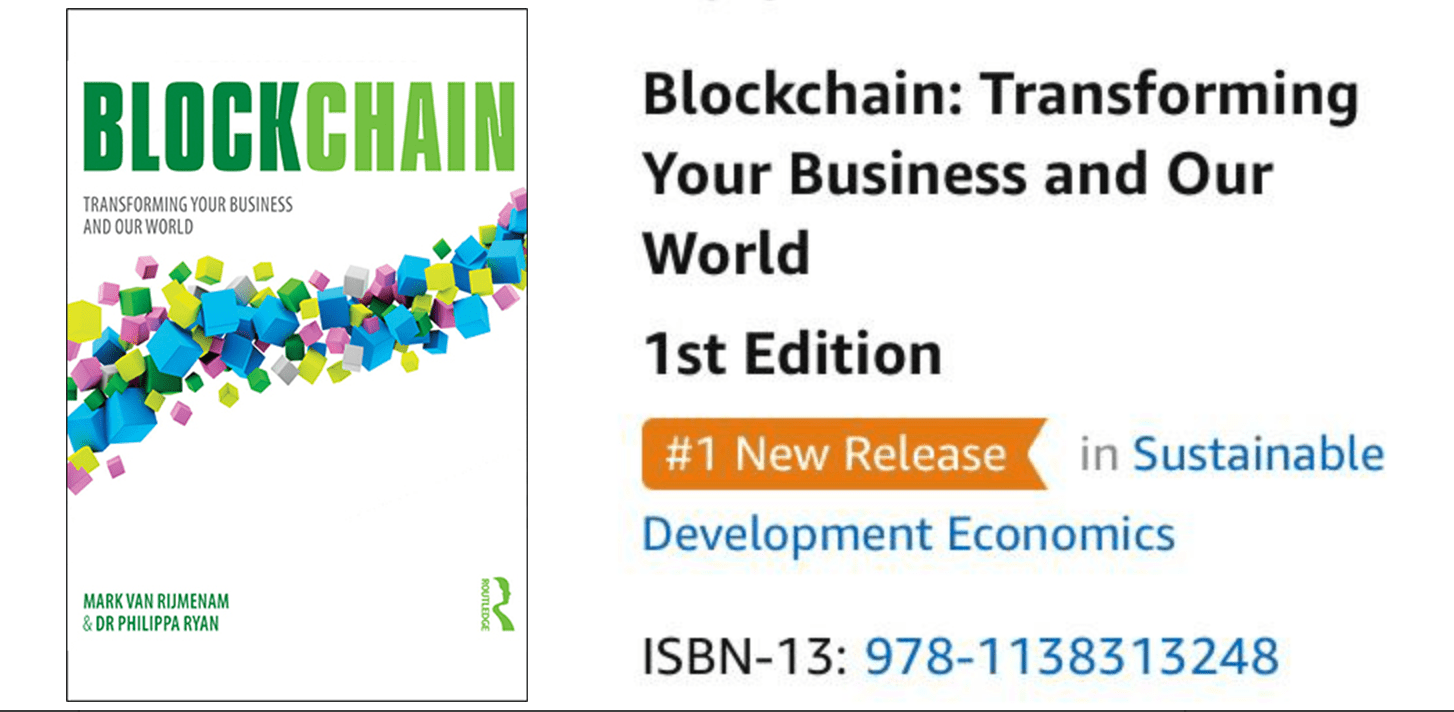 👋 Hi, I am Mark. I am a strategic futurist and innovation keynote speaker. I advise governments and enterprises on emerging technologies such as AI or the metaverse. My subscribers receive
a free weekly newsletter
on cutting-edge technology.
Last year, I was researching for my PhD, and I noticed that there was a lack of knowledge available on how Blockchain could be used for social good. Most of the information available related to Blockchain was either about Bitcoin and cryptocurrencies or how the financial services industry could benefit from distributed ledger technology. This seemed strange to me, especially because Goldman Sachs already stated in 2015 that "Blockchain can change … well everything". That was when Dr Philippa Ryan and I set to work to fill this gap and investigate how Blockchain can be used to improve our world, and while doing that, we also discovered how it could transform your business.
Fast-forward 1,5 years and our book has now been published globally. Our publisher, Routledge, saw the importance of our work and decided to work together to get our book on the market as soon as possible. It became available last week, and already it has been recognised as #1 new release in multiple categories on Amazon. Next month, the Chinese edition will become available, and we are in talks with other publishers for additional translations.
So, what is the book all about?
As you may be aware by now, Blockchain is growing in importance. Increasingly, organisations are exploring what this revolutionary technology can mean for their business. Marc Andreessen, from the well-known venture capital firm Andreessen Horowitz, calls it as big an invention as the internet. Blockchain is rapidly transforming the financial services and many other industries, including retail, travel, health, insurance, property, compliance, and energy. However, Blockchain does not only impact the commercial part of our world. Blockchain technology enables us to decentralise the web and decentralise many, if not all, services that are offered online. A decentralised global network was how the internet was originally envisioned, but somehow in the past 25 years, it has been controlled by a few very powerful companies. Blockchain is a paradigm shift, and it enables us to create a better, decentralised, world.
This book offers a blueprint for how Blockchain can create a better, fairer, world for all. A world built upon peer-to-peer transactions will bring back power and independence to the consumer. Blockchain can equally improve the speed and efficiency of transactions and compliance in developed and developing economies. A distributed and decentralised world reduces the control of intermediaries, who generally charge fees for each transaction.
For the first time in history, there is a technology that can truly result in a better world for all; Blockchain can reduce the effects of climate change, it can give the poor an opportunity to improve their lives, to monetise their (digital) capital and to reduce friction in financial transactions, lower the barrier to enter financial systems, and to leave poverty behind. Blockchain can positively have an impact on voting fraud, censorship, tax evasion, corruption, money-laundering, black economies, the refugee crisis, the rule of law and will enable more transparent fair trade across the globe. It will give consumers ownership over their data and enhance online reputation. As well as improving the conditions and lives of vulnerable populations, this new technology will also improve commercial arrangements in developed and developing economies. These commercial benefits include to supply chain, logistics, verification of identity, digital signatures, payment systems, compliance, governance, insurance, health services, and provenance.
This book offers practical solutions to global problems while identifying the legal barriers to social justice and current impediments to the implementation of Blockchain into incumbent systems. Filled with countless examples of how start-ups are disrupting existing practices with a decentralised and distributed approach, Blockchain: Transforming Your Business and Our World provides the reader with a clear understanding of the possibilities of Blockchain for a better world. We take a deep dive into the world of cryptocurrencies, tokens and distributed peer-to-peer networks to explain how Blockchain can play a key role in building a fairer, more inclusive world.
Blockchain offers a new opportunity for mankind to once and for all fix major problems, as identified by the United Nations 2030 Agenda for Sustainable Development. We cover five of these UN Sustainable Development Goals and discuss how Blockchain can contribute to achieving them. Filled with easy to understand examples and use cases, this book offers a blueprint for a better world and shows how Blockchain can take over where the internet has either failed to deliver or fallen short. It is a must-read for anyone who cares about the world.
You can order it today
You can order the book via Amazon or via Routledge. If you buy it via Routledge, use the discount code FRL40 to receive a 20% discount on the book. I hope you will enjoy the book as much as we enjoyed writing it. And if so, please leave a review on Amazon after you have finished it so that more people will become aware of the positive impact Blockchain can have on our world. Thank you!