How Blockchain Could Disrupt the Telecom Industry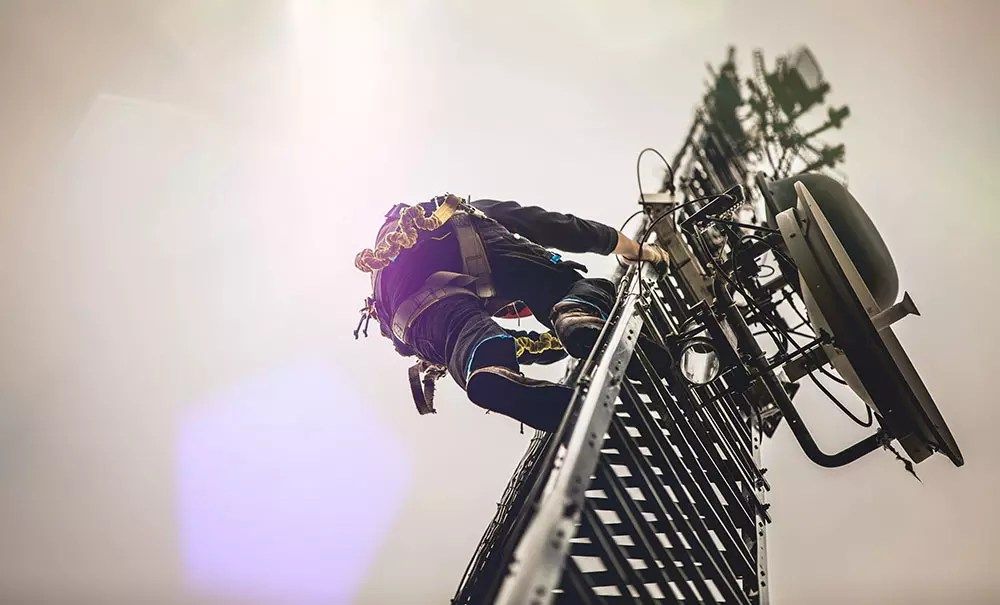 👋 Hi, I am Mark. I am a strategic futurist and innovation keynote speaker. I advise governments and enterprises on emerging technologies such as AI or the metaverse. My subscribers receive
a free weekly newsletter
on cutting-edge technology.
The Telecom industry is known for reinventing itself. In the early days of telecom, fixed landlines were the key product of Telco's, while with the advent of the mobile phone this moved to mobile subscriptions and the massive cash cow SMS. However, in recent years, for many Telecom organisations the main revenue is no longer call but data, which required another change in their business model. With every organisation turning into a data organisation, there are significant opportunities for the Telecom industry to reinvent itself once again, thanks to Blockchain.
Since telephony is so pervasive, the telecom industry is huge and often complex, with over 2000 mobile network operators. Many different players and billions of consumers and devices that interchangeably use a variety of networks. In addition, the Internet of Things will add tens of billions of devices to the global telecom networks, providing a huge opportunity for the Telecom industry. All these connections and billions of transactions have to be managed, and Blockchain is. Blockchain's core attributes to make data immutable, verifiable and traceable enables the Telecom industry to create an ecosystem where consumers are in full control, and there is trust, security and transparency in the participating ecosystem. The result is lower costs for consumers, better networks and overall improved experience for all stakeholders.
Three Applications of Blockchain for Telecom
Within an ecosystem with billions of transactions, there are probably numerous applications of blockchain. However, I would like to focus on the three main applications that I believe will have the most impact on the global telecom industry.
5G Enablement and Customised Data Plans
5G is rapidly being developed across the world, and it promises to offer high-speed internet required for the data-rich future ahead of us. To achieve ubiquitous access across networks for billions of devices, telecom organisations, or Communication Service Providers (CSPs), need to ensure a variety of access nodes and mechanisms. Each telecom organisation can, of course, do this centrally, as is already the case resulting in delays and non-seamless provisioning, but a much more reliable and efficient solution would be to do this using a private blockchain, accessed by the CSPs.
Within a private blockchain, the rules and agreements among various CSPs can be coded in smart contracts, which are stored on the private blockchain. Devices that want to connect to the network broadcast their identity to the decentralised network and based on the parameters within the smart contracts, and the users are charged accordingly. While the smart contracts are immutable, the parameters can easily be changed if required, allowing for flexible and reliable service to any device.
From Communications Service Provider to Identity Service Provider
Online identity is the next big thing, and numerous organisations are working on developing self-sovereign identities for individuals, organisations and things. In the future, each bit of data might also have its own identity (or meta information) that enables easy and reliable data sharing across consumers and organisations. A self-sovereign identity brings back full control to the end-user to manage their identity, and it offers a new revenue model for Communication Service Providers.
CSPs could offer a virtual sim card, an eSIM (embedded SIM) that offers virtual identities for devices, data or users. This virtual identity can then be used to perform transactions among users, organisations and connected devices such as logging in to a social network or purchasing goods online. A virtual identity can offer many benefits, and these benefits are only limited by the number of partners the CSP can sign on to the system. This 'identity-as-a-service' could be a significant new revenue model for Telcos.
IoT – Smart Homes, Smart Cities and Smart Everything
By 2025, the average person will interact with a connected device nearly every 18 seconds, in effect digitally documenting every move, query, purchase, plan, and transaction. The Internet of Things offers a significant new revenue model for CSPs as all these billions of transactions among billions of devices need to be managed securely. CSPs can start with establishing a blockchain network by adding blockchain nodes to every mid-range cell tower, which can be done at relatively low costs.
A decentralised mesh network, operated by multiple CSPs can then be used to offer self-managed peer-to-peer networks enabling highly secure transactions among connected devices. Of course, organisations such as IOTA are also working building the infrastructure for the Internet of Things, but with a predicted $19 trillion of added value to the global economy thanks to the Internet of Things, there are ample opportunities for CSPs to boost their revenue with decentralised IoT services.
Moving to a Decentralised Telecom Industry
The future of the Telecom industry could very well be a decentralised future, where consumers contribute to a global mobile network and benefit from their contribution. A company working on this vision is Singapore-based blockchain startup Qlink. Qlink has developed its own hardware that will allow users to contribute to a 4G network, managed by the NEO blockchain. Any transaction is registered on the blockchain and users are paid accordingly. An interesting approach that could open the way for a truly decentralised communication service provider.
With the advent of Blockchain, CSPs should transition from telecom organisations to digital services enablers. T-Mobile seems to understand this new paradigm as they are quietly building a decentralised enterprise blockchain solution. Also, Huawei, the world's 3rd largest handset maker, is developing a blockchain-enabled mobile phone. In addition, Huawei is building a blockchain-enabled platform for insurance solutions, thereby clearly showing a move towards a digital services enabler.
The future for Telecom organisations is anything but dire. With so many new digital services being developed and billions if not trillions of transactions to be processed, there is ample room for innovation and opportunities for the global telecom industry.
Image: Benoit Daoust/Shutterstock