How the Metaverse will Change the Media & Entertainment Industry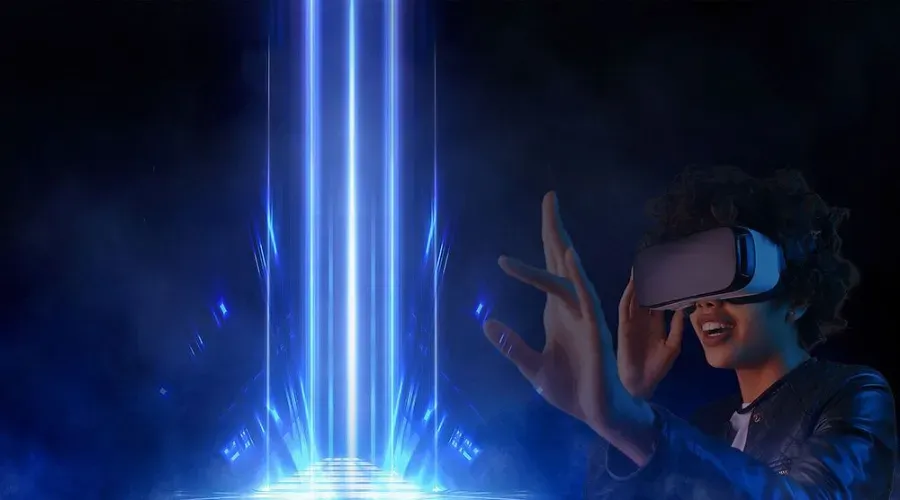 👋 Hi, I am Mark. I am a strategic futurist and innovation keynote speaker. I advise governments and enterprises on emerging technologies such as AI or the metaverse. My subscribers receive
a free weekly newsletter
on cutting-edge technology.
On 15 November, as a futurist keynote speaker, I delivered a keynote on the metaverse at the Global Media Congress in Abu Dhabi. The congress brought together journalists, tech firms, content creators, digital marketing professionals, streaming giants, entertainment executives, regulators and key media stakeholders to talk about the future of media.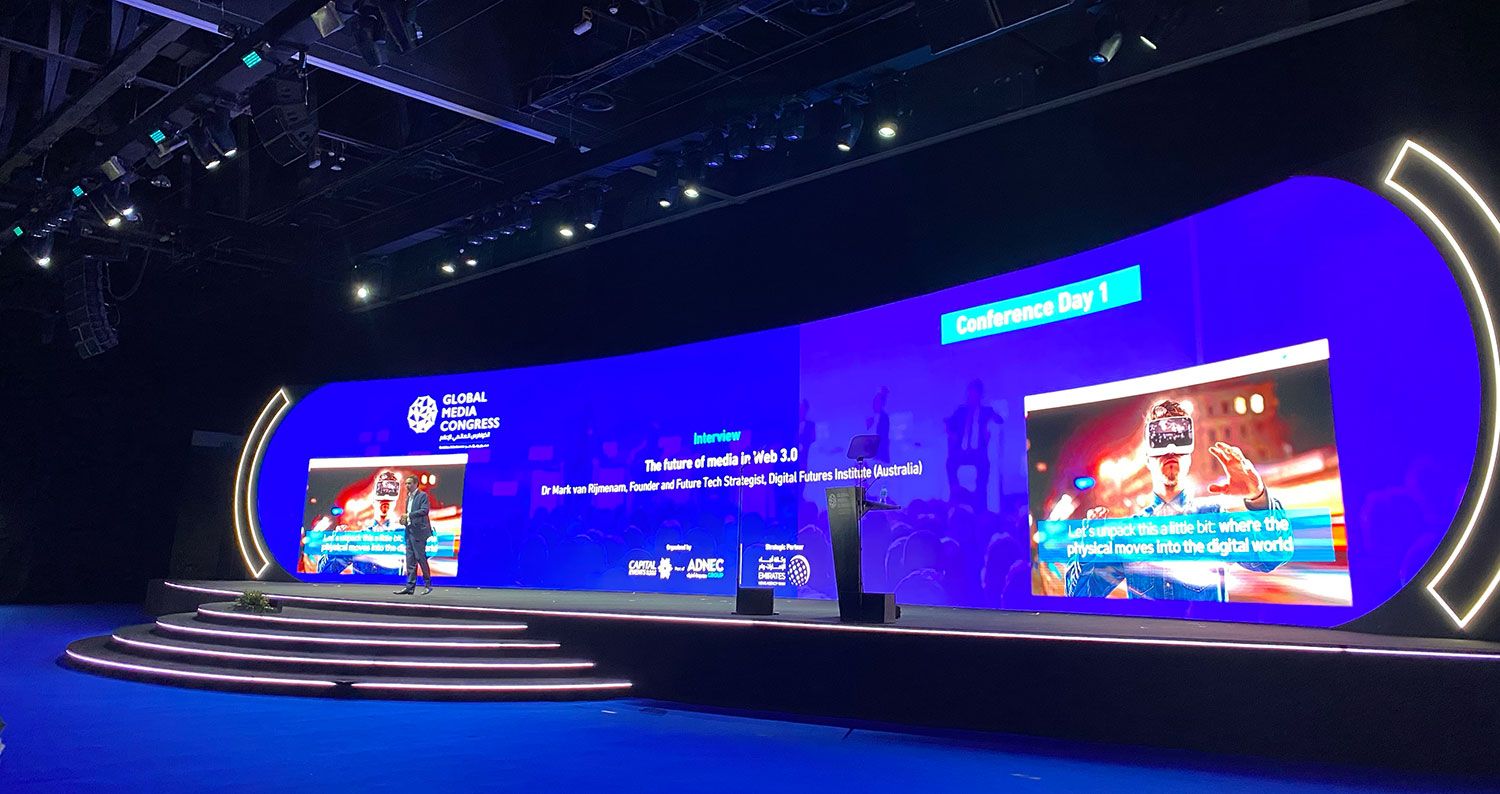 With the immersive internet around the corner, the future of media and entertainment is exciting, and we are in for a wild ride. Before the end of this decade, we can expect 3D, hyper-realistic virtual and augmented experiences that will blow us away. The potential of the metaverse for the media and entertainment industry is enormous; let's have a look.
The Entertainment Industry
The entertainment industry was hit hard due to the pandemic, with concerts canceled worldwide and artists and event organizers feeling the pain. However, it served also as a kick starter to create new types of events, including massive interactive live events.
On November 13 and 14, 2020, American rapper, singer, and songwriter Lil Nas X, also known as Montero Lamar Hill, appeared on the virtual stage on Roblox, the global gaming platform especially popular among children. As a first for Roblox, the concert attracted an incredible 33 million attendees, enjoying a unique performance inside the virtual world. For Lil Nas X, who is often regarded as a trailblazer, the virtual concert provided a unique opportunity to connect with millions of his fans when physical shows were not possible due to the pandemic.
Less than a year later, in October 2021, and later again in 2022, Decentraland organized not just one concert but an entire, four-day metaverse festival with 80 different artists. Decentraland is a fully decentralized 3D virtual world controlled by a decentralized autonomous organization (DAO) where users can build their own unique digital experience and interact with others.
Massive Interactive Live Events
The rise of these massive interactive live events (MILEs) is the first indication of where the internet is heading and the opportunities that come with the next iteration of the World Wide Web. Who would have thought a few years ago that 33 million people could attend a concert at the same time? All could experience it from the best possible vantage point and share that experience with friends who are scattered across the globe, creating collective memories in times when physical connections were not possible. Online entertainment and socializing in virtual gaming environments are very normal for Generation Z (those born between the mid-to-late 1990s and 2010) and especially Generation Alpha (those born after 2010), even before the pandemic hit.
One of the amazing new experiences that the metaverse has brought already is these massive interactive live events. To Generation Alpha, these MILEs offer substantial benefits over real-world concerts. First, they are easy to attend to. Children do not need to ask for permission from their parents because they don't have to go anywhere. They can attend from the comfort of their home. Second, they can appear at the concert in their favorite outfit or character, using the avatar as an extension of their real-world personality, creating the ability for ultimate self-expression. If your child feels like going to the concert like a unicorn, they can, and it probably doesn't cost the world to be a unicorn, either. Next, their friends from around the world will also be at the concert.
Note here that Generation Alpha has friends from all over the world from the start. They have made close friendships with people they might have never met in real life and probably never will meet physically. To them, globalization is not something that is bad, but an opportunity to meet new people and learn more cultures, albeit completely virtually.
Finally, they will have front-row seats at the concert, even if they happen to be late for the show. In fact, they can stand next to their favorite singer while he or she is performing, taking a screenshot of the experience and sharing it with their friends who could not be there. Once the concert is over, your children are already home in time for dinner. The best thing is that next week, they can go to another concert, without paying $100 for an entry ticket that allows them to see their favorite artist from afar in the physical world. For many children, virtual concerts offer as good an experience or even a better experience than traditional physical concerts.
The metaverse will provide benefits like these interactive concerts and many more that will be hard to ignore for both consumers and organizations. The metaverse offers a new way of doing business, connecting with customers, and collaborating with colleagues. Those companies who have already stepped into the metaverse are already benefiting from it, creating increased brand loyalty, optimizing product design and creation processes, becoming more sustainable, and generally increasing their bottom line.
Similar to those companies who were first to adopt the internet when it appeared in the 1990s and those companies who were first to venture onto social media when it appeared in the late 2000s, those companies who have already entered the metaverse will reap the benefits from this new trillion-dollar social economy that will be created this decade.
Massive Events are Massive Money Makers
In the years to come, massive interactive live events will become bigger, more interactive, and a massive money-maker for artists and virtual world owners while offering unique experiences to fans. Fans can see and hear their favorite artists in completely new ways, while NFTs and crypto will reduce the dependency on intermediaries, and artists can connect with and sell their music to fans direct.
As such, they can retain a larger share of their revenues while at the same time reaching millions of fans at once with (live) virtual concerts. Of course, centralized platforms will also take a cut of artists' earnings, but that is similar to the physical world where the costs for a stadium or concert hall also need to be paid for.
The very first concert was on 2 February 2019, when Marshmello, an American electronic music producer and DJ, delivered the first virtual concert in Fortnite. 10 million fans played Fortnite and attended the Marshmello concert, with millions more joining the live stream on YouTube.
The next big concert on Fortnite was by hip-hop star Travis Scott in April 2020. His Astronomical tour of five 15-minute concerts saw an eye-dropping 27.7 million concurrent players participate live, with a total of 45.8 million visits. These five concerts reportedly earned him $20 million, not bad for a few hours of work, especially if this is compared to his Astroworld tour in 2019, which grossed him $1.7 million. These massive interactive live events are here to stay. At the same time, we have only just explored the possibilities of these concerts.
These initial concerts took place in a 2D virtual world that people could attend on their computers. In the coming years, we will also see live virtual reality concerts, which will bring the experience to another level—allowing fans to feel as if they are there and sharing the experience while attending the event remotely. If the graphics and spatial audio are good enough, it could almost look like the real deal, though the experience will probably be a lot more visual and out of this world.
Especially because with such virtual events, whether 2D or 3D, it is possible to align the visuals with the rhythm of the music, creating an additional sensation. Of course, similar to physical events, merchandise in the form of skins, digital fashion, or wearables for your avatar can be sold as NFTs during the event, adding to the revenue-making opportunities for the artist and others involved.
A few years down the line, we will probably be able to have your favorite artist deliver a personalized concert right in your living room using a holographic projection thanks to your AR glasses. Combined with AI, your favorite artist can address you by your name, and you can even have a simple, conversation, further personalizing the experience. The possibilities are endless.
Augmented Reality and Entertainment
Of course, not only famous singers can benefit from the opportunities in the metaverse. Anyone can create a digital twin and deliver a unique performance in the metaverse, whether you are a stand-up comedian, a famous entrepreneur delivering a keynote, or a celebrity author doing a book launch.
I can imagine that 5 to 10 years from now, we will go to the local theatre, and you will be handed AR glasses that will give a completely new meaning to theatre, merging the physical actors with magical digital creatures to deliver a unique experience. The metaverse will completely revolutionize media, culture, and entertainment and enable a wide variety of unbelievable experiences, unlike anything we have seen before. Magic will become real.
In fact, as I wrote in my article on the rise of phygital events, "in 2022, Coachella created the Coachellaverse, an augmented reality experience with advanced wearable technology. The technology enabled users to travel beyond the physical setting and interact with artists, creators, and fans in surprising ways.
Users could experience the Coachellaverse in the festival app to immerse themselves in 100% AR experiences designed in collaboration with Niantic, a leading American company in AR solutions. People could log into the portal to explore geo-specific maps, discover points of interest around the polo fields, and explore new ways of expressing themselves through fashion, music, and art by blending real life with digital life in a multi-sensory AR experience."
The Metaverse and the Media
The media industry has had a hard time in the past decade, especially due to the rise of the internet. Their main source of revenue dropped – advertising – as consumers became more interested in content on demand or the free content – YouTube or TikTok – available on the internet. However, the media industry does have a lot of experience with creating great content, and with the metaverse, they are getting a fantastic new opportunity to take this to another level.
The opportunities are plenty, and any media organization should start exploring and experimenting with the metaverse, including seeing how to embed NFTs in a media experience (whether it is written, audio or video content), how to embrace synthetic media to deliver unique content, or how to use AR or VR to deliver a unique, immersive experience.
Walt Disney and the Metaverse
Walt Disney is one of the most exciting brands to step into the metaverse In December 2021, they filed a patent for a "virtual-world simulator" to bring their theme parks into the metaverse. According to the patent, users would be able to move in "highly immersive individualized 3D virtual experiences without requiring those users to wear an augmented reality AR viewing device."
Recently, Walt Disney revealed its first AR-enabled short film on Disney+. The experiment brought Walt Disney into the living room, offering a unique experience while watching the eight-minute film. It shows the enormous possibilities that augmented reality offers storytellers.
Walt Disney has always been far ahead of the pack when it comes to digital transformation, starting with the MagicBand+ wrist device that they introduced already in 2013, so we can expect digital magic from the Mickey Mouse brand in the years to come.
Increased Revenue
Apart from delivering virtual or augmented experiences that offer novel experiences, NFTs will enable artists and media companies to increase their revenue opportunities. Research by the Ivory Academy showed that 80 percent of music creators earn less than $275 per year, while the top biggest record labels made $12 million, per day. Thanks to NFTs, artists can now interact directly with their fans and increase their music revenue.
Naturally, the music industry jumped onto the NFT bandwagon in 2021, and many famous artists were the first to explore these options. Singers such as Grimes, Kings of Leon, and Eminem, to name a few, minted songs, and album art as NFTs to raise money directly from fans. Eminem even made $1.7 million for his first NFT music collection, while Grimes sold a digital-art NFT. Fortunately, NFTs are not only for famous singers. Also, up-and-coming artists can benefit from NFTs and crypto to raise funds to create their albums and thereby grow their community. NFTs are a great new source of income to replace the minimal revenue most artists generate from streaming platforms.
The platform Royal.io, for example, enables musicians to sell fractionalized royalty ownership to their fans. When the artist earns, the fans earn too, a concept called Listen to Earn. With each NFT, apart from a small share in royalty, the singer can add special perks that further strengthen the bond with the fans.
As an artist, with NFTs, you are in control, and you can create engaging experiences that further increase your fan base. An artist can use NFTs to sell an asset or multiple, and sell them directly to their fans, creating a direct economic relationship with them instead of going through some intermediary.
The artist can see who owns those NFTs and drop them another NFT, digital wearable, or digital gift as a reward for their continuous support. It could be a limited edition of a T-shirt that the fan can wear within virtual worlds and gives you access to a backstage meeting with the artist.
NFTs empower content creators, help them depend less on intermediaries, and create a stronger connection with fans. Upcoming artists can use platforms such as Royal.io to share their royalty with their early fans and use those funds to further increase their presence.
The same would apply to movies, where you can create NFT movie tickets before a film has been made. This would help kickstart a movie and give the owner a stake in the movie's success. After all, if the movie becomes a success, the NFT movie tickets can become collector items similar to the real world.
The startup GrooveUp takes it to another level and let artists even reward fans for streaming their music with tokens or NFTs, administered automatically using smart contracts. This Stream-to-Earn business model is another attempt to break the power of large record labels.
With these virtual concerts and the NFTs to directly engage with fans, the money-making opportunities will likely shift away from the record labels to the artists and virtual platforms. They will empower artists to be more in control if they want to go the extra mile and connect directly with fans without the help of record labels. Whether the metaverse and NFTs can reverse the existing inequality remains to be seen, depending on the power of the record labels, but at least it gives (upcoming) artists a novel way to connect with their fans and reduce the dependency on record labels to become successful.
Of course, creating this direct relationship with fans applies to any brand, and companies that want to get involved in the metaverse should think about how they want to evolve their relationship with their customers. Brands should reward consumers for attending, buying, sharing, or displaying their product or service in the metaverse. It is early days and not yet battle-tested, but brands and startups should experiment to determine what works and what doesn't.
Watching Sports in the Metaverse
The sports industry is a form of entertainment that is well-known for creating value. Already a $620 billion global market, watching or participating in sports (events) could take on a whole new meaning when the sports industry steps into the metaverse.
The sports industry is no stranger to augmented reality, as sporting events on TV have had digitally added and targeted advertising on the field sidelines for years. Now that there is a convergence of technologies such as data analytics, the Internet of Things, AI, and VR or AR, it could completely transform sports.
Imagine your favorite sports club, for example, in football, baseball, basketball, or soccer, and you would love to attend a live match. In the metaverse, you can do so from the comfort of your home without missing any of the experience you would have when attending in person. While nothing beats a live experience, a metaverse experience would provide unique benefits you would not be able to get when watching the match inside the stadium.
For example, apart from most likely paying a much lower fee, you can watch the match in VR, and in the long run, potentially also in AR as a holographic projection, from any viewpoint—be it alongside the pitch or hovering above the players—while receiving additional live insights about what is happening. You could literally be standing next to your favorite player while they score a goal.
In early 2021, Nickelodeon tried a different, but very much fun, approach. They partnered up with the Dutch sports data visualization company Beyond Sports to turn a live NFL playoff match into a cartoony-style block form based on SpongeBob SquarePants. The entire environment, including the stadium, players, pitch, etc., were turned into block form and using real-time data, the players in the block world moved exactly as the players in the real world, but with all kinds of fun elements added to it, including slime canons. It was an absurd way of game reporting that was vibrant, fun, completely unique, and a mix of video game simulation and an actual NFL game. It was an indication of what is to come and where users could experience sports in whatever way they wanted.
Reporting sport matches in block form might not be for everyone, and hyper-realistic immersive sports might seem farfetched, but the metaverse will certainly revolutionize how we watch sports. With instant replay already available for years and new developments such as Intel True View technology, being in full control of how you want to watch a game is closer than ever before.
Intel's system places dozens of small smart cameras around a venue, capturing the field and the game from every possible angle and generating massive amounts of volumetric data, including height, width, and depth information. These terabytes of volumetric data are then converted into a volumetric video that gives the editor full control of what to show from any viewpoint, at any depth or distance. The natural next step would be to give this control to the viewer, assisted by AI, who can decide how to watch his favorite team.
Theoretically, Intel's system should be powerful enough to completely replace all traditional cameras while giving editors and viewers more control than ever before. Add in spatial audio, and all of a sudden, you can stand on the pitch, among the players, while watching the match like never before and hearing the players talk to each other from different angles. Of course, all this volumetric data can be analyzed by AI to give sports teams new insights and improve their play in ways that would give the Oakland Athletics baseball team and their general manager Billy Beane, portrayed in the movie Moneyball, a run for their money.
Watching Sports as Holographic Projections
The company Tilt Five is currently experimenting with creating holographic projections of real-live matches in your living room. This would provide you with a completely different perspective on a game, as you see the players running around on your table as little action figures.
A great new approach to watching sports that will likely evolve rapidly in the years to come, allowing you to have a hyper-realistic experience. Combined with a system like Intel's True view Technology, you would be able to zoom in on the action like never before.
eSports in the Metaverse
What would apply to physical sports would also apply to the eSports industry. eSports is a form of competition using video games, where individuals or teams participate in multiplayer video games with the objective of winning or be the last person standing, depending on the video game genre. Most of these eSport championships revolve around first-person shooters, Battle Royale, or real-time strategy games such as Dota2 Counterstrike or League of Legends. It is a billion-dollar industry with world championships followed by millions of enthusiasts and million-dollar prizes. Although these games are just 2D games, the next iteration of eSports is already here.
The metaverse will unite esports and physical sports into a larger omniverse, where they are currently sovereign ecosystems. Games such as Echo Arena merge physical activity with a virtual reality multiplayer game. Players need to duck, jump, dodge, throw with accuracy, and use quick reflexes in physical reality to win the game. It combines physical activity and technology in completely new ways, and it is increasing in popularity. It could easily become as popular as traditional sports as the digital environments can be displayed on 2D devices or viewers could watch a game in virtual reality. Suddenly, participating in the real-world Olympics while playing Quidditch for your national team becomes a possibility!
NFTs and Large Sporting Events
Of course, the sports industry is also looking at utilizing crypto and NFTs to increase fan engagement. During the 2022 Olympics, the International Olympics Committee jumped on the NFT bandwagon, creating a blockchain game called Olympic Games Jam: Beijing 2022, which allowed users to compete in different Olympic sports, wear custom avatar skins and earn rewards. Interestingly, the game was not available in China, due to its restrictions on crypto.
The 2022 Australian Open tennis tournament also released NFTs, including the AO Decades Collection—six NFT collections celebrating the history of the Australian Open. While most of these NFTs were nothing more than images or short video clips, one NFT would give its owner an all-paid trip to the Australian Open in 2023. At the same time, the Australian Open also released NFT art linked to live match data. The 6,776 unique items of the AO Art Ball collection gave people the possibility to own a piece of the Australian Open.
The organizers linked the 6,776 NFTs to a 19cm × 19cm plot of all tennis courts, and whenever the winning shot of any of the 400+ matches landed on one of those plots, a unique NFT would be minted in real-time, including the metadata of the match. Contrary to the AO Decades Collection, these NFTs came with utility such as limited-edition wearables, merchandise, and other future benefits. The 6,776 tennis balls were created using artificial intelligence to ensure a unique combination of colors and textures.
Finally, the Australian Open also opened a tennis experience in Decentraland, for fans to explore virtually from anywhere in the world and complete challenges and interact with players. The Australian Open digital experience is a great example of how the metaverse can enrich the sports experience, and it won't be long before you could watch a live game inside one of the virtual worlds and experience matches in completely new ways similar to the Nickelodeon NFL game.
Final Thoughts
The media and entertainment industry has a unique opportunity ahead to reinvent itself. The immersive internet will enable them to offer unique, interactive experiences that bring media consumption to another level. It will allow media companies to develop immersive VR or AR content and use metaverse technologies such as NFTs to develop new business models.
The combination of the metaverse and media/entertainment is natural, and all media organizations should start experimenting with how they can embrace the next iteration of the internet. After all, it is not a case if the metaverse will arrive, but it is the case when the metaverse will arrive. Given the speed of developments, this will likely be sooner than later, so media companies should avoid making the same mistake when the internet arrived and step into the metaverse today.
This article is an abstract of my latest book: Step into the Metaverse.